NYCB Theatre at Westbury | Westbury, New York
Zappa Plays Zappa comes to NYCB Theatre at Westbury on Saturday 1st March 2014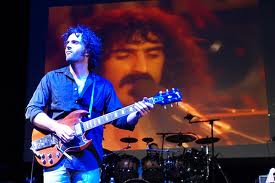 Are you ready to totally Freak Out!? The American tribute act Zappa Plays Zappa is coming to the NYCB Theatre at Westbury this March!
Led by Dweezil Zappa, Zappa Plays Zappa are known in their own right to be a band that can really bring it on stage! Dweezil started the band as a tribute to his father, Frank Zappa. Frank Zappa was known as a true artist as a musician, songwriter, band leader, composer, record producer, recording engineer and even a film director. He was inducted into the Rock & Roll Hall of Fame in 1995. Dweezil Zappa is Frank's eldest son and is dedicated to keeping his fathers music alive and out there. The band, Zappa Plays Zappa, has toured throughout the US, North America and Europe since their début in 2006. The eight piece tribute is made up of Dweezil Zappa on guitar, Sheila Gonzalez playing saxophone, flute, keyboard & vocals, Ben Thomas on vocals, Chris Norton on keyboards & vocals and Ryan Brown on drums. In 2009, the group were awarded a Grammy for the best instrumental performance of the classic Frank Zappa song 'Peaches en Regalia'. Since then, the band have been busy… they released a double live album in 2012 and have been preparing for their big tour for 2014!
One review states 'Brilliant. Beautiful. Extraordinary. Awesome. All of these words fit, but none are enough.'. Don't miss out… tickets are on sale now!