NYCB Theatre at Westbury | Westbury, New York
The Italian Hurricane returns! Frenetic and hilarious New Jersey comedian Vic Dibitetto will be performing once again on the NYCB Theatre at Westbury stage on Saturday 22nd July 2017! Known for his frank and energetic humor, Dibitetto will make you belly-laugh with his no-holds-barred observational comedy!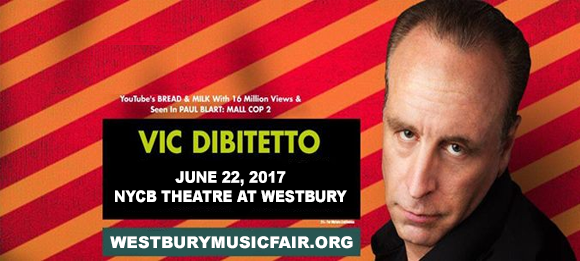 A $10,000 Grand Prize-winner on America's Funniest People, Vic DiBitetto is the comedian responsible for creating the hilarious viral video 'Bread & Milk.' Dibitetto has performed at Caroline's in New York City, The Borgota in Atlantic City, The Riviera in Las Vegas and countless clubs across the country and is currently starring in The Three Tenors Who Can't Sing!
Read More: See Comedian Vic DiBitetto Live | http://nj1015.com/the-steve-trevelise-comedy-tour-presents-vic-dibitetto/?trackback=tsmclip