NYCB Theatre at Westbury | Westbury, NY
Isn't it great to have a big, hearty laugh? One of the biggest of forms of live entertainment is a comedy show. And one man that can make you laugh big time is the big daddy of comedy — Sinbad! Standing at a staggering height of six feet five inches, this guy is simply comically adorable. Roll on the floor with laughter as he talks about events "back in the day" that definitely hit home and make you look back on life with a big smile on your face. Sinbad is back on the road, bringing his comedy tour on premier concert stages. Sinbad is all set to sail and dock over at the NYCB Theatre at Westbury on Friday 7th February 2020. This is definitely going to be a fun ride! Book your tickets now!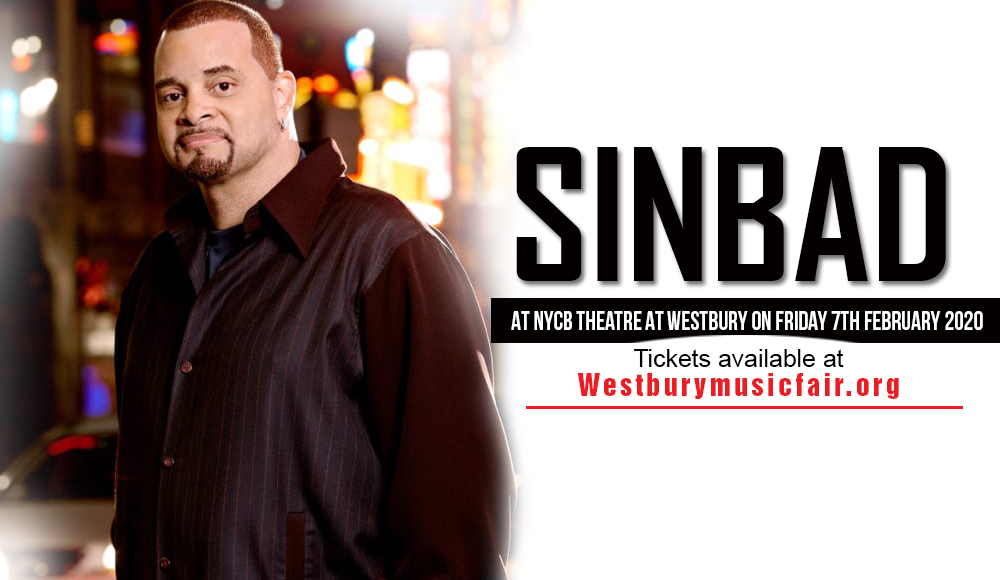 David Adkins, also-known-as Sinbad, is an American stand-up comedian and actor. Sinbad is definitely and literally a stand-out, standing at six feet five inches tall, carrying boundless energy, passion, and stories. He claims he doesn't know any jokes except those he remembers his dad telling him from "back in the day". Yes, his humor is inspired by everyday events — those heart-breaking trials, stress-inducing scenarios, those embarrassing-awkward moments, or those cringy pick-up lines from day-to-day life. He has the knack of making you remember, throwing it back at you and make you react with hysterical laughter. Stories of love, marriage, career, money, and faith — Sinbad has got 'em all covered.
Sinbad has been making the world laugh for over two decades now. After placing as a finalist in the talent show "Star Search", Sinbad landed a role on A Different World, a spin-off of The Cosby Show built around Lisa Bonet's character Denise Huxtable. Then he landed his own TV sitcom The Sinbad Show, where he earned a nomination in the 1995 Kids' Choice Awards for "Favorite Television Actor". He has also a prominent fixture in the silver screen starring in the films "Necessary Roughness", "Houseguest", :"First Kid", "Jingle All the Way", and "Good Burger".
Invest your time and money wisely. Booking your tickets to Sinbad's comedy show is all worth it — have a good laugh, it's priceless!