NYCB Theatre at Westbury | Westbury, New York
Star and producer of Netflix's The Indian Detective and internationally renowned comedian Russell Peters comes to NYCB Theatre at Westbury on Thursday 14th February 2019 on the Deported World Tour! Featuring brand new material from the no-holds-barred comedian, the tour gives Peter the chance to get up close and personal with fans once more:
"I love getting to know my audience. It's a collaboration between us," Peters said in a press release.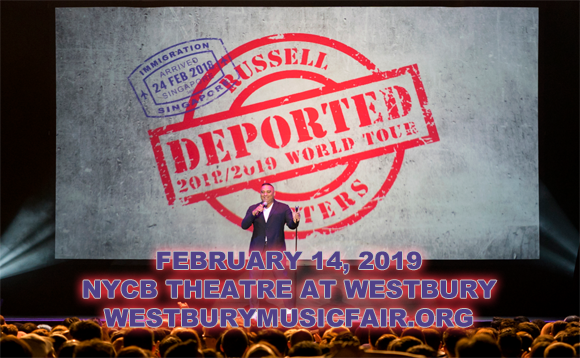 Canadian stand-up comedian and actor Russell Peters first began performing his comedy in Toronto in 1989. After many years of performing, Peters' breakthrough came in 2004 with an appearance on the Canadian TV comedy show Comedy Now!, which went viral on YouTube. After hosting the televised 2008 Juno Awards ceremonies, Peters won a Gemini Award for "Best Performance or Host in a Variety Program or Series". In 2013, Peters was the first comedian to debut a comedy special on Netflix with Notorious. In addition to his career in stand-up comedy, Peters has appeared in many films, and he also won the Peabody Award and the International Emmy Award for Best Arts Programming for producing the Netflix documentary Hip-Hop Evolution (2016). In 2013, Forbes ranked Peters third on their list of the world's highest-paid comedians.