NYCB Theatre at Westbury | Westbury, New York
Spend a delightful evening and get your much-needed r&r's. Whether your music mood craves for relaxing melodies or recharging and energizing rhythms, you'll definitely get the best of both from Martina McBride. Don't miss one of country music's female powerhouse performers, Martina McBride, as she takes her "Everlasting" tour to the NYCB Theatre at Westbury on Thursday 9th October 2014.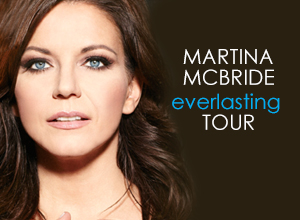 Martina McBride's is an all-in-one powerhouse vocal package that resonates power and exudes grace. With 12 studio albums that have cumulatively sold over 14 million copies, her iconic stature was further strengthened with prestigious awards such as Country Music Association's 4-time awardee as "Female Vocalist of the Year"; 3-time recepient of the Academy of Country Music's "Top Female Vocalist" award, as well as 14 Grammy nominations.
The seat of Martina McBride's power truly emanates from her voice. The New York Times hails her as "One of the biggest and most healing voices in Nashville." Thus it is but a fitting for her to pay homage and breathe new life to songs and sounds that came from the vibrant era of the 50s and 60s.
"We've worked hard to put together a show that is visually entertaining as well as very rich musically…there's so much for the audience to see and experience," says McBride.
Songs can live forever, but it's the singer, the voice who gives it an everlasting impact. Martina McBride is the voice that could take a song and create an indelible imprint in your heart. Don't let this wonderful experience pass you by… Get your tickets now!