NYCB Theatre at Westbury | Westbury, New York
Louder Than Love Valentine's Ball Freestyle Show features TKA, Judy Torres, Sugar Hill Gang , Freedom Williams of C&C Music Factory, The Covers Girls, Noel, Soave, Alisha, and Joyce Sims and Disco Unlimited! For all your disco needs come to NYCB Theatre at Westbury on Saturday 15th February!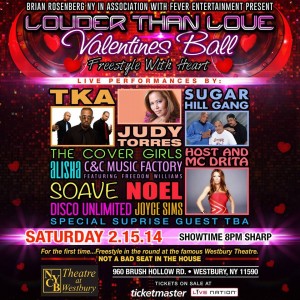 TKA is a Latin freestyle trio that started in the 80's and took a break in their career during the 90's, but came back with bang in 2001 releasing their album 'Forever'.
Judy Torres, also referred to as the Queen of Freestyle, the Legendary Ms. Judy Torres, or KTU's Own Judy Torres. One of the original female freestyle artists, who has outlasted most of her counter parts.
Sugar Hill Gang one of the original Rap groups, known mostly for its 1979 hit "Rapper's Delight," the first rap single to become a Top 40 hit.
C&C Music Factory formed in 1989 and are hip-hop veterans with over 35 music awards. With hits such as "Gonna Make You Sweat (Everybody Dance Now)" and "Just a Touch of Love" which appeared in the movie Sister Act.
The cover girls are a hugely successful Hip-hop, pop-dance and freestyle group, appearing in the 80's with popular hits such as Show Me", "We Can't Go Wrong" and "Funk Boutique". With career spanning two decades, this much loved group will get you grooving all nigh long.
Alisha is an American freestyle and dance pop singer, her first self titled album sold over two million copies. She gained success with songs such as "All Night Passion" and "Baby Talk".