NYCB Theatre at Westbury | Westbury, New York
Lily Tomlin strikes again! She's unstoppable, quick-witted, wild and incredibly funny. Yes, she's blazing new trails on the stage comedy circuit. Make sure to catch her show at the NYCB Theatre at Westbury on Sunday 22nd March 2015. A limited engagement only. Get your tickets now!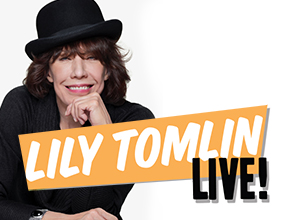 When Lily Tomlin hits the stage, she throws a grenade of gags that make audiences explode in thunderous laughter. She always has an inexhaustible ammunition of hilarious anecdotes and punchlines from the myriad of characters that she portrays. Since the late 60s, Tomlin has been a force to reckon with in the comedy arena. She started as a stand-up comedian, then became a featured TV comedian in the Rowan & Martin's Laugh-In. She's an all-around comedienne whose body of work include stand-up comedy, TV, comedy recordings, Broadway, and movies. Her notable performances include starring roles in movies like Nashville, 9 to 5, All of Me, The Beverly Hillbillies, Orange County, and I Heart Huckabees. Her preeminent TV roles include Laugh-In as a cast member from 1970–73, Ms. Frizzle on The Magic School Bus, Kay Carter-Shepley on Murphy Brown, Deborah Fiderer on The West Wing, and Lillie Mae MacKenzie on Malibu Country. Her career is decorated with various prestigious awards — Tonys, Emmys, Grammys, and many more outstanding citations. She oozes with amazing talent and energy USA Today has said: "Lily Tomlin just may be the eighth wonder of the world!".
Lily Tomlin is serving a comedy buffet. Just sit back, relax, and take unlimited servings of wild and funny characters, jaw-breaking punchlines, and rib-tickling anecdotes. A belly full of laughs is definitely guaranteed! Book your tickets now!