NYCB Theatre at Westbury | Westbury, New York
The cool December breeze brings in a sublime live concert perfect for the holidays! This may not be your typical yuletide show but it is an equally heartwarming treat for the soul… Renowned and Grammy Award-winning soul R&B singer, songwriter, and record producer Kenny Babyface Edmonds will grace the stage of the NYCB Theatre at Westbury on Friday 10th December 2021. Break from the holiday rush for a smooth sound trip. Get the stress off the rush for booking tickets. That 'Get Tickets' link on this site is simply the easiest way around saving the best seats in the house. Click to book your tickets now.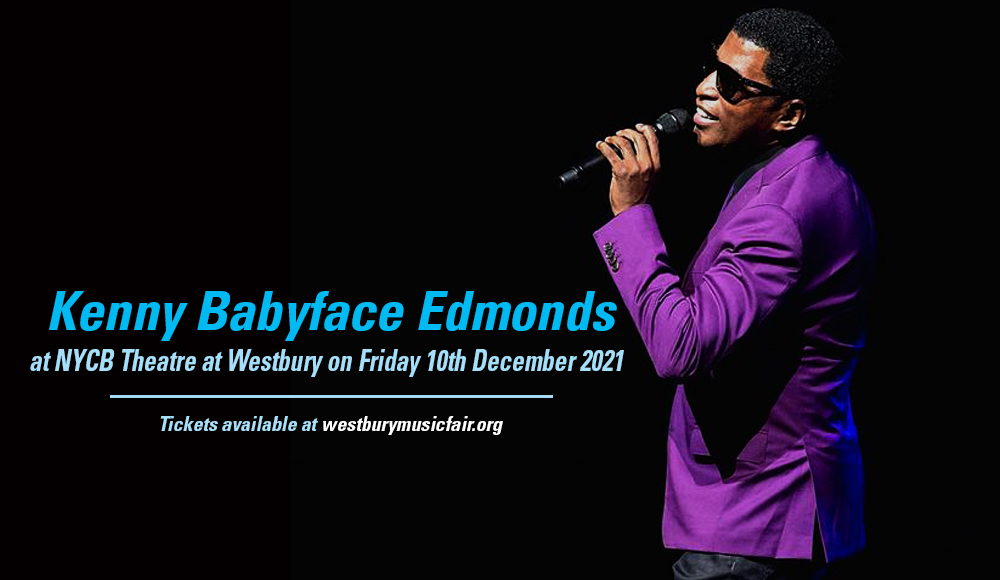 His is the face that launched a wave of hit songs, particularly in the realm of pop, R&B, soul, and new jack swing. He is an esteemed songwriter and an A-list music producer for some of the most illustrious names in music, which include Usher, OutKast, TLC, Toni Braxton, Michael Jackson, Bruno Mars, Ariana Grande, Whitney Houston, Pink, Beyonce, Boyz II Men, Eric Clapton, Madonna, and Mariah Carey.
His multi-faceted talent has also brought his name alongside those music icons as a recording artist and concert performer. Kenny Babyface Edmonds is truly a creative force to reckon with. During the early years in his career, he was regarded as a highly prolific songwriter – a hitmaker, so to speak. Soon afterwards, Kenny Babyface found his voice with the release of his solo album titled Tender Lover in 1989. It rocket launched his singing career into the spotlight with numerous charting hits "Every Time I Close My Eyes," "It's No Crime," "Whip Appeal," "Tender Love," "What If", "When Can I See You," "There She Goes" and many more.
Ranked number 20 on NME's 50 of The Greatest Producers Ever list, Babyface's number-one R&B compositions and music productions are at 26, and counting… A winner of 12 Grammy Awards, plus over 50 Top 10 Pop hits including 16 Number 1's.
Babyface with a smooth, silky, and soulful voice singing a superb line-up of hits is definitely what you need to chill and cheer you up this holiday season. Tickets are on sale now.