NYCB Theatre at Westbury | Westbury, New York
Jackson Browne has been a busy on his solo tour this Winter but is planning to come back bigger than ever with his full band ready for the Summer season! Fans can catch his groundbreaking performance at the NYCB Theatre at Westbury on Sunday 12th June 2016, where he will revisit all the much loved classic songs such as; "These Days", "The Pretender", "Running on Empty", "Lawyers in Love", "Doctor My Eyes" and "Take It Easy!"
"This is my ideal band, with some of my favorite players, whose combined gifts provide the musical foundation and emotional underpinnings of my new songs. The interplay between Val McCallum and Greg Leisz – the effortlessness of their chemistry is a gift really, that just dropped into my lap. I feel fortunate to have them out on the road for this tour."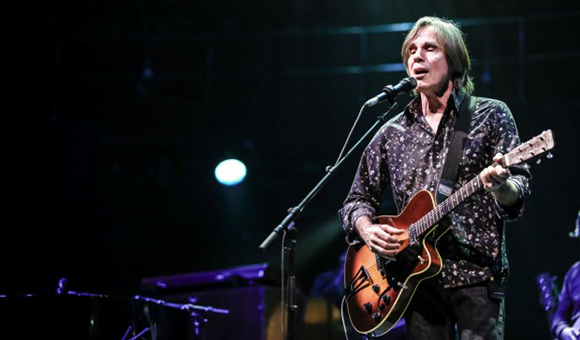 Jackson Browne started his career as a writer for local bands and musicians living in the Huntington Beach, California area for the likes of his friend Pamela Polland's band, Gentle Soul.
After his move to Greenwich Village, New York in 1968, he became a staff writer for Elektra Records' publishing company called Nina Music, he would critic live shows in New York City with his friends Greg Copeland and Adam Saylor. It was this time also that he backed for famous names such as Tim Buckley and singer Nico of the Velvet Underground!
Jackson Browne has collaborated with the likes of Steve Noonan, Gregg Allman, Joan Baez, Eagles, Linda Ronstadt and the Byrds… building up his career and spreading his name around the circuit so that one day he could break solo and become a solo musician in his own right.