Westbury Music Fair | Westbury, New York
Ahoy there! Join Jeremy Jacob and his pirate buddies in their wonderful escapade. The whole gang of "How I Became a Pirate" will be at the Westbury Music Fair in New York on March 02, 2013 at 1:00 PM. Experience the thrill of exploring the blue ocean, treasures and the ups and downs of a pirate's life!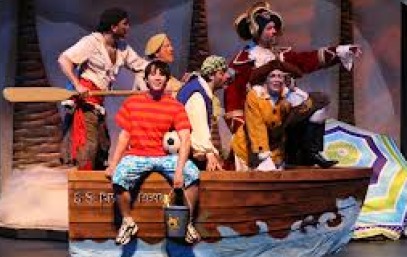 How I Became A Pirate is an admired Fiction Picture book by Melinda Long and David Shannon. It was privileged to gain awards such as Notable Book of the English Language Arts (2004), ALA Notable Books for Children (2004) and Book of the Year Award by Book Sense also in 2004. The book has received a lot of great reviews, commending its exciting tale and the moral it conveys especially to children. If the book has fulfilled your imaginations and satisfy your buccaneer side, what more if the characters come to life right before your eyes! You'll gonna "yo ho ho" as you watch How I Became A Pirate fun-filled musical.
Who's not going to be ecstatic if they were invited by pirates to join them in their voyage. While on the beach, little Jeremy Jacob's parents were distracted to even notice that the boy delightedly jumps right on board with Captain Braid Beard and his pirate posse. The adventure started out quite fun without having to do things like brushing his teeth or eat veggies, he loves all the freedom! He learned pirate's talks, deeds and behaviours. But before long, he realizes that being a pirate is not as great as he thought it would be. This is when he yearns to go back to the comfort of his home – a place where his heart is.
Ye mateys will surely enjoy singing along with cheery songs like "Pirates Don't Arrrgh", "Green Teeth", "A Good One To Boot" and many more! Great way to bond with your kids so you gotta have your tickets now!