NYCB Theatre at Westbury | Westbury, NY
Ladies and gentlemen, "El Caballero de la Salsa" (The Gentleman of Salsa) Gilberto Santa Rosa comes to NYCB Music Theatre at Westbury on Friday 6th October 2017 for a night of tropical salsa to make your feet move and romantic ballads to make your heart soar! Don't miss your chance to see the Latin legend, live!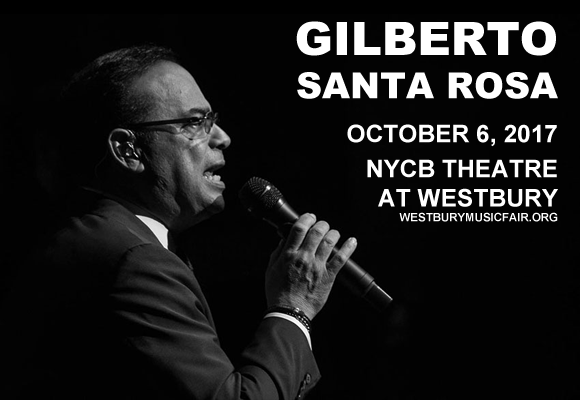 Puerto Rican salsa singer and bandleader Gilberto Santa Rosa began his career as a backing singer with the Mario Ortiz Orchestra in 1976. In 1980, he recorded "Homenaje a Eddie Palmieri" (Tribute to Eddie Palmieri) with the Puerto Rican All Stars, and throughout the decade recorded with various orchestras, including the Tommy Olivencia Orchestra, and the Willie Rosario orchestra, before forming his own band in 1986. Signing to  Combo Records, Santa Rosa had several hit records, such as "Good Vibrations", "De Amor y Salsa" (Of Love and Salsa), "Punto de Vista" (Point of View), "Vivir Sin Ella" (Living without Her) and "Perspectiva". He has recorded 27 albums to date and, as of 2010, he holds the record for the most number-one albums on the Billboard Tropical Albums chart.