Westbury Music Fair | Westbury, New York
Want to get mega-doses of good vibrations?  And have some fun, fun, fun while singing and dancing the night away to the music of America's first, best rock / surf rock band – The Beach Boys?!  The Beach Boy's tour is impacting like a giant tidal wave in several key cities all over the world.  They're now riding high on their surf boards cruisin' towards New York in the Westbury Music Fair, and will make a big live music splash on April 4, 2013.  Show starts 8:00 pm.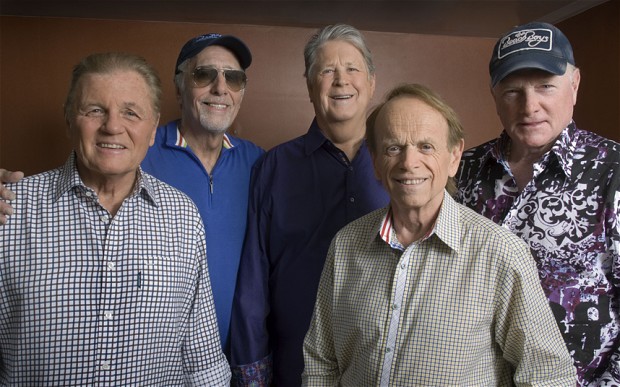 Last year, 2012, The Beach Boys celebrated 50 years of delighting their fans with great music.  This year, there's still no stopping The Beach Boys from blasting on live sets of their distinct brand of surf rock, psychedelic rock, and lush harmonies integrated into ultra-catchy pop-rock ditties.  Titles of their hit songs alone are a great part of their resumes. From Surfer Girl, to Barbara Ann, Surfin' USA, Surfin Safari, Fun Fun Fun, I Get Around, God Only Knows, Good Vibrations, Wouldn't It Be Nice, My Little Deuce Coupe, Don't Worry Baby… to Kokomo, and a whole lot more,  The Beach Boys contributed a great chunk of songs to America's treasure trove of rock n' roll music history.
The Beach Boys are orginally composed of brothers Brian,Dennis and Carl Wilson, their cousin Mike Love, and friend Al Jardine.  They scored thirty-six United States Top 40 hits (the most by an American rock band) and fifty-six Hot 100 hits, including four number-one singles.  Rolling Stones magazine has given them due recognition, occupying the number 12 spot on their 2004 list of the "100 Greatest Artists of All Time".  They have 56 U.S. Top 100 hits, 36 Top Ten hits, 4 Number One singles and sold over 100 million albums.
Wouldn't it be nice if you you'd be watching The Beach Boys from the best seat in the house?  Tickets sales are like being briskly swept away by the tides.  Don't leave anything to chance, get your tickets now!