NYCB Theatre at Westbury | Westbury, New York
Love is in the air! Air Supply is embarking on yet another 'World Tour'. They're filling the air with love at the NYCB Theatre at Westbury on Saturday 16th August 2014. Don't miss this sweet serenade!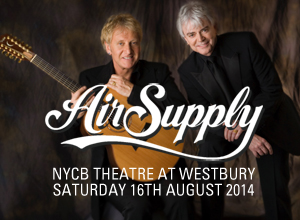 Air Supply has toured the world many times over since the 80s, playing to jam-packed stadiums, arenas, and concert halls. For over thirty years, the duo of Graham Russel and Russel Hitchcock are unstoppable –delighting audiences from different parts of the world, and generations ranging from the baby boomers to the millennials. Their lasting popularity and longevity can only be attributed to one thing: their music. This Australian duo have sold over 100 million albums worldwide. In the 1980s, they had a succession of 8 top 10 hits in the US alone, and topped various charts in various countries all over the world. They broke in the world market with the mega-hit single "Lost In Love". From then on the world was singing along to their massive hits such as "All Out of Love", "Lost in Love", "The One That You Love", "Here I Am", "Even the Nights Are Better", "Making Love Out of Nothing at All", "The Power of Love (You Are My Lady)", "Lonely Is the Night", "Without You", "Unchained Melody", "Goodbye"…and many, many more!
Air Supply will fill the night with their greatest love songs, so you'll feel loved, or fall in love, or maybe find love all over again. Get tickets for you and your loved ones. Book them now!