NYCB Theatre at Westbury | Westbury, New York
Up for a night of legendary soft rock hits? You're in luck as the globally-acclaimed hitmaker duo, Air Supply, is back from their international tour, hitting the stage once again for a series of shows in the US. Get ready to sing your hearts out to "Every Woman in the World", "All Out of Love", and so many more as the living legends take over the stage at NYCB Theatre at Westbury on Saturday, 5th of August 2023. Over four decades since its global domination, Air Supply's tracks remain as radio hits across generations of listeners. As the band keeps their music alive on the big stage for years to come, book those tickets now!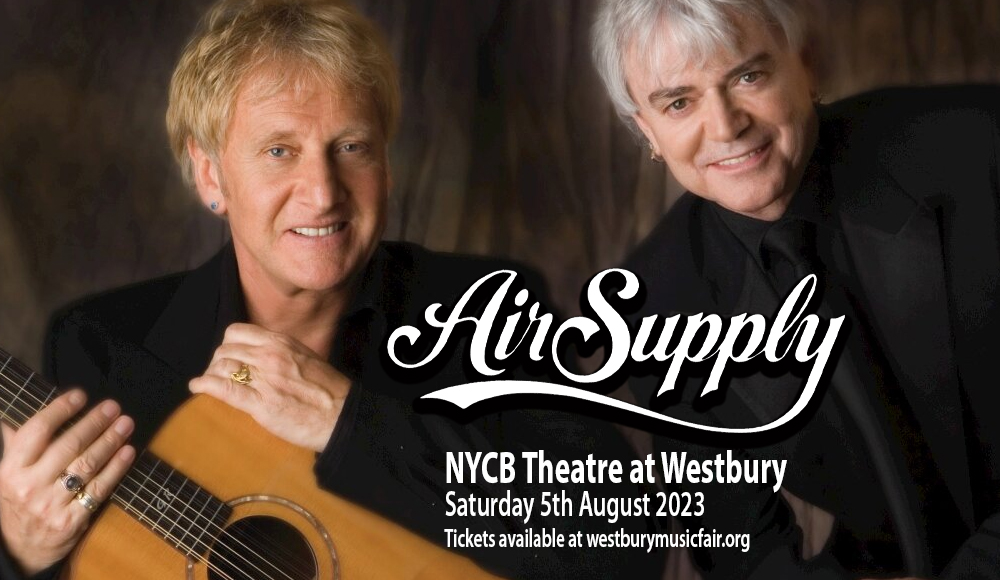 As the living legends Russel Hitchcock and Graham Russel continue to keep their legacy live on stage, Air Supply is embarking on a series of 2023 US tour dates following their extensive international tour last 2022. Inducted into the ARIA Hall of Fame in 2013, the band's music has influenced decades and generations of listeners who continue to be mesmerized by the duo's striking lyrics and Hitchcock's soaring vocals that ooze emotion.
Rather than laying around and living like kings with the fruit of their decades of hits, the legends choose to hit the road once again on over 30 U.S. concerts spanning through winter and spring.
Founding members Chrissie Hammond, Russel Hitchcock, and Graham Russel crossed paths in 1975 when they performed for the Jesus Christ Superstar musical at the time. They decided to form a vocal group which became the first incarnation of what the world would come to know as Air Supply. Hammond left after a year with Jeremy Paul joining the group. In 1976, they released their debut single "Love and Other Bruises", gaining attention in Australia as the single hit #6 on the KMR chart.
As Air Supply carried on, Jeremy Paul left, leaving Hitchcock and Russel on the journey of golden years for Air Supply. The duo amassed global attention in the 80s as they released a re-recorded version of their single "Lost in Love", hitting #3 on the US Hot 100. The duo's succeeding singles were hit after hit such as "All Out of Love", "Every Woman in the World", "The One That You Love", "Here I Am", "Even the Nights Are Better", "Just as I Am", "Lonely Is the Night", and so much more.
Frequently played on various radio stations to this date, continuously gaining streams across streaming platforms for their nostalgia-filled hit singles, Air Supply's music transcends generations of listeners who fall in love with its distinct soft-rock vibe matched with Hitchcock's mesmerizing vocals.
In 2019, Air Supply released "The Lost in Love Experience", a live album of recorded performances of the duo's greatest hits and crowd favorites across Air Supply's extensive and nostalgic discography. In 2020, Air Supply ranked at #48 in Rolling Stone Australia's "50 Greatest Australian Artists of All Time" list.
So, make sure you don't let this chance pass to catch Air Supply's roster of live US shows this 2023. Book your tickets now! No lonely nights here, just nights of nostalgic and powerful soft-rock hits by the one and only Air Supply.