NYCB Theatre at Westbury | Westbury, New York
With 23 gold records, nine platinum albums, more than 100 million records sold worldwide and 32 hits on the Billboard Hot 100, Tommy James is one of traditional pop music's true legends! Tommy James and The Shondells return to NYCB Theatre at Westbury on Saturday 14th March 2020 for a night of singalong classics that everone knows and loves! With over five decades in the industry, James is an inspiring and incredible artist to watch live and a must-see act for anyone who has a true appreciation for the well-crafted song!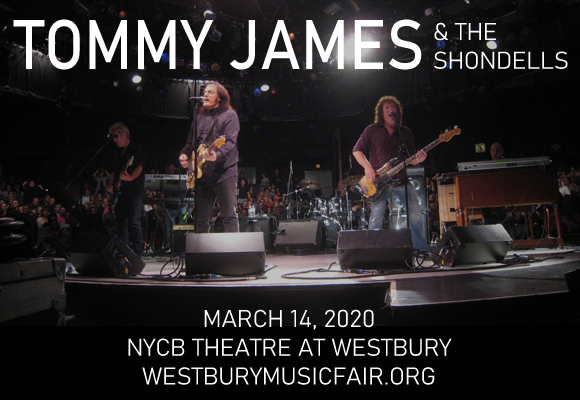 Tommy James and the Shondells originally formed under the name the Echoes in 1959 in Niles, Michigan when James was only 12 years old. The band later took on the name Tom and the Tornadoes, before eventually settling on Tommy James and the Shondells in 1964. Their single from that year, "Hanky Panky", became a huge sleeper hit, eventually reaching number one in 1966 and kick-starting the band's career. Throughout the group's career, they launched twelve other Top 40 hits, including five that reached the top ten of the Billboard Hot 100: "I Think We're Alone Now", "Mirage", "Mony Mony", "Sweet Cherry Wine", and "Crystal Blue Persuasion". "Crystal Blue Persuasion" was the perfect choice for the soundtrack for an episode of Breaking Bad, and found new popularity with a much younger generation. Several of the band's hits were given new life in the 1980s when they were covered by other artists: Joan Jett & The Blackhearts' version of "Crimson And Clover" (No. 7 in 1982), Tiffany's "I Think We're Alone Now" and Billy Idol's "Mony Mony" (back-to-back No. 1 singles in November 1987).