NYCB Theatre at Westbury | Westbury, NY
When comedian Tom Segura says 'I'm Coming Everywhere,' he really means it! Yes, that is what the comic has called his extensive new tour and with all those dates, he's living up to his promise! The 'Your Mom's House' podcast host and Netflix darling brings his wry and daring set to NYCB Theatre at Westbury on Saturday 2nd April 2022! Filled with hilarious anecdotes and guilty laughs, Segura is close to the bone and nothing short of hysterically funny! Too good to miss!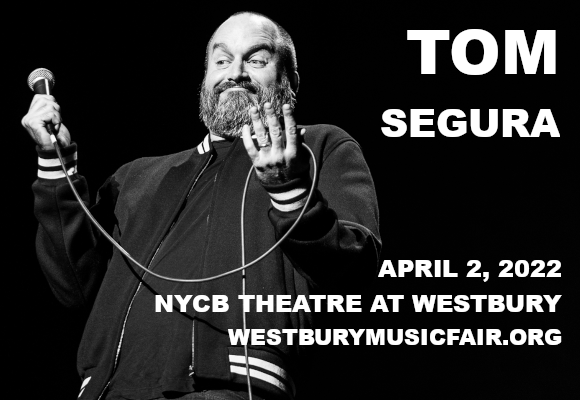 Known for his laid-back demeanor and ability to deliver the sickest punchlines with a straight face, Tom Segura is one of America's biggest stand-ups right now. The comedian began performing at university in North Carolina, before moving to California to pursue it as a career. Flash forward some 15-plus years later and he has four Netflix specials – Completely Normal (2014), Mostly Stories (2016), Disgraceful (2018), and Ballhog (2020) – not to mention his hugely successful podcast Your Mom's House, co-created and co-hosted with his wife, Christina Pazsitzky. Segura has performed all over the world and at all of the most prestigious comedy festivals, including Melbourne International Comedy Festival, The Comedy Festival, the Global Comedy Festival in Vancouver, and Just For Laughs Comedy Festival. In addition to Your Mom's House, he also hosts the podcast 2 Bears, 1 Cave with fellow comedian and actor Bert Kreischer and the Spanish-language podcast Tom Segura en Español. He released his debut comedy album Thrilled in 2010, followed by White Girls with Cornrows in 2012.