NYCB Theatre at Westbury | Westbury, New York
Legendary guitarist, producer and music industry icon Todd Rundgren comes to NYCB Theatre at Westbury on Satuday 9th December 2017 for a night of mind-blowing, genre-bending music! Always bringing a lively energy to the stage, this diverse and revered music-maker never disappoints – get your tickets now!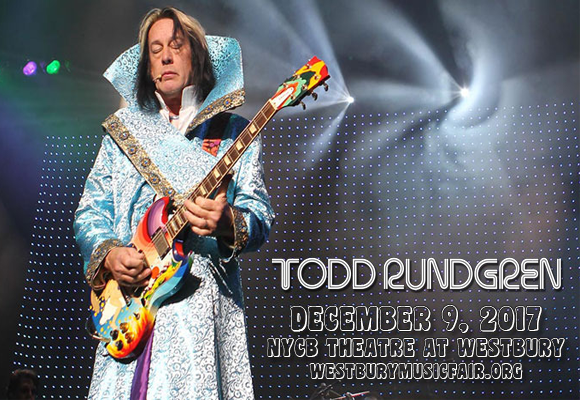 Multi-instrumentalist, singer, songwriter, and record producer Todd Rundgren began his music career as co-founder and guitarist of garage rock group Nazz in 1967. Rundgren released his debut solo album Runt in 1970 and, upon signing to Albert Grossman's Bearsville Records label, produced several notable albums throughout the 1970 and 1980s, including: The Band's Stage Fright (1970), Badfinger's Straight Up (1971), Grand Funk Railroad's We're an American Band (1973), the New York Dolls's New York Dolls (1973), Hall & Oates's War Babies (1974), Meat Loaf's Bat Out of Hell (1977) and XTC's Skylarking (1986). Rundgren's best-selling solo singles include the 1972 singles "Hello It's Me" and "I Saw the Light" and his 1983 single "Bang the Drum All Day". His most recent album,  White Knight (2017), features collaborations with Trent Reznor, Robyn, Daryl Hall, Joe Walsh and Donald Fagen.