NYCB Theatre at Westbury | Westbury, New York
Fresh from their sensational Australian tour, where they sold out more than 145 shows and over 100,000 tickets, the globe's best loved children's entertainment group, The Wiggles, are coming back to the U.S. this fall for their "Rock & Roll Preschool" tour! Supporting the release of their brand new CD and DVD, Rock & Roll Preschool, as well as a new season of their hit TV series, The Wiggles are bringing the preschool fun to NYCB Theatre at Westbury on Friday 25th September!
"This tour will get you all shook up," laughed Emma.
"Of course we'll play our classic wiggly favorites like "Rock-a-Bye Your Bear", "Fruit Salad" and "Do the Propeller!" affirmed Lachy.
Simon added excitedly, "With this new tour, we've got everything from Irish dancing, ballerinas, and a couple of hip shaking Elvises!"
"We can't wait for our friends in the USA to see this new show!" enthused Anthony.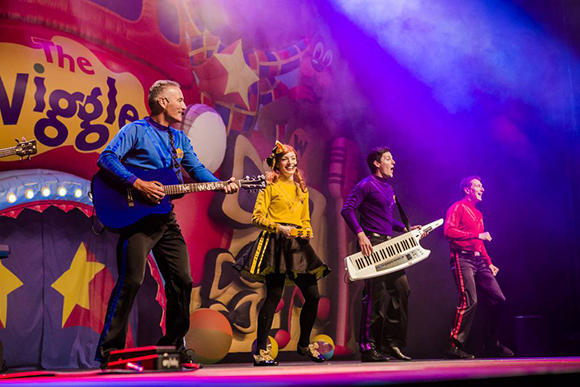 Formed in Sydney, Australia in 1991, The Wiggles are the world's most popular children's entertainment group. Having been performing for over 24 years, the group is now formed of Anthony (Blue), Emma (Yellow), Lachy (Purple) and Simon (Red). As a result of their background, the group combines music and theories of child development in their videos, television programs, and live shows. Since their inception, other regular characters (Captain Feathersword, Dorothy the Dinosaur, Henry the Octopus, and Wags the Dog) and a troupe called "The Wiggly dancers" have toured with them and appeared in their CDs, DVDs, and television programs. The group has achieved worldwide success with their children's albums, videos, television series, and concert appearances, and were named Business Review Weekly's top-earning Australian entertainers for four years in a row, earning A$45 million in 2009 alone. They have earned 17 gold, 12 platinum, three double-platinum, and ten multi-platinum awards for sales of over 17 million DVDs and four million CDs.