Westbury Music Fair | Westbury, New York
Have you ever felt being caressed and gently rocked in the cradle of love?  That's what's in store for you once you step into the Westbury Music Fair in New York.  The Whispers and Stephanie Mills will welcome you into the the loving arms of their soft, tender, and captivating ballads. Experience this heartwarming evening of nothing but pure, unadulterated, silky smooth R&B, jazz, ballads and love songs from The Whispers and Stephanie Mills, happening on the 11th of May 2013 at the Westbury Music Fair, New York.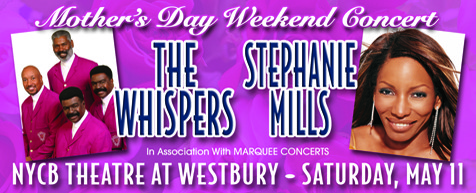 The Whispers celebrate over 40 years of timeless music, a very loyal worldwide fanbase, and a very intact line-up of members –with only one member changed in the course of over 40 years of being together as a group.  Such is a rare and amazing feat, that's why The Whispers truly deserve their legendary stature.  Formed way back in 1964, its original members include twin brothers, Wallace "Scotty" and Walter Scott, Gordy Harmon, Marcus Hutson and Nicholas Caldwell.  Harmon's injury resulting from a car accident in 1973, prompted his exit from the group and was replaced by former Friends of Distinction member Leaveil Degree. From the 70s to the 80s, their hit singles and albums were constant fixtures on the Billboard charts;  these include their classic hits such as  "And the Beat Goes On / "Can You Do the Boogie" / "Out the Box", "Rock Steady", "Lady" , "Lost and Turned Out", and many more.
Stephanie Mills literally grew up right before our very eyes, starting her career at the age of 9, in the broadway musical 'Maggie Flynn'.  Then, her stellar performance of the song "Home" as Dorothy in 'The Wiz', with an all-star cast which include Michael Jackson and Diana Ross, became her anthemic signature performance .  She was touted as 'the little girl with a big voice'.  As she stepped into her teens and early 20s, she also had her taste of Top 40 hit singles and albums.  Her landmark hits include  "I Have Learned To Respect The Power Of Love," "Home" "Never Knew Love Like This Before", and "Whatcha Gonna Do With My Lovin".  She has received several Grammy, Tony, and American Music awards.
The Whispers and Stephanie Mills — Don't miss their back-to-back live performance.  A music-filled event that would surely delight audiences of all generations.  Get your tickets now!