NYCB Theatre at Westbury | Westbury, New York
Kick your heels, snap your fingers, and bob your head as you enjoy the music of The Temptations & The Four Tops! Right on, they'll be sharing the stage in a double-headliner tour, and will make their way to the concert hall of the NYCB Theatre at Westbury on Sunday 17th May 2020. This will be a back-to-back parade of their biggest and most endearing hits. The Temptations & The Four Tops are still at the top of their game –singing with lush vocal harmonies and delightful showmanship with their fine-tuned choreography. Put some sunshine on a cloudy day as you reach out and book your tickets. Click on that 'buy tickets' button now!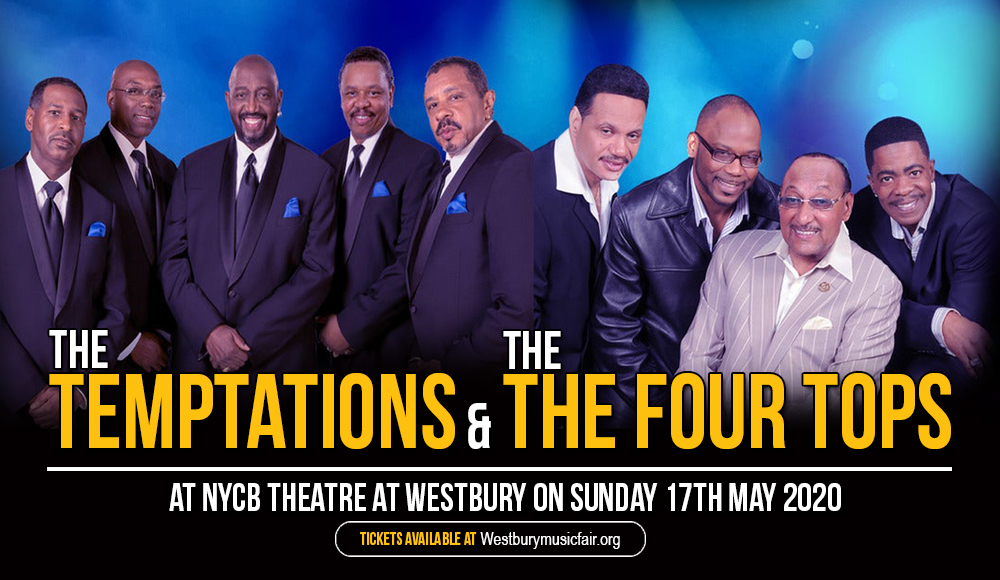 They are the bastions of the enduring and highly influential Motown Sound. The Temptations & The Four Tops are truly living legends. Their music is everywhere and has been listened to from one generation to the next.
The Temptations is one of the early Motown groups that has had their taste of chart-success since the sixties. They have a very distinct sense of style, amusing choreography, and a rich vocal harmony that pioneered psychedelic soul, and was significant in the evolution of R&B and soul music. "My Girl," "Ain't Too Proud to Beg," "Get Ready," "Just My Imagination," and "Papa Was a Rollin' Stone," are just some of their chart-topping hits that are very much familiar and addictively sing-able to this day. Being the first Motown group to win a Grammy Award and collected a total of three in their long-spanning career, they were honored with the Grammy Lifetime Achievement Award. Their most-loved classic T"My Girl", "Just My Imagination (Running Away with Me)", and "Papa Was a Rollin' Stone", were listed in The Rock and Roll Hall of Fame's 500 Songs that Shaped Rock and Roll. The Temptations were ranked at number 68 on Rolling Stone magazine's list of the 100 Greatest Artists of all time.
Another group that defined the Motown sound is The Four Tops. They're one of Motown's source of their steady stream of hits which include "Baby I Need Your Loving," "I Can't Help Myself (Sugar Pie, Honey Bunch)," "Reach Out (I'll Be There)," and "Ain't No Woman (Like the One I've Got)". The Four Tops were elevated on the Grammy stage as they received their Grammy Lifetime Achievement Award as part of the 51st Annual Grammy Awards ceremony. Two of their top hits were cited at the Grammy Hall of Fame, namely, "Reach Out I'll Be There" in 1998) and "I Can't Help Myself (Sugar Pie Honey Bunch", in 2018. Their career is decorated with countless citations including: the #77 spot on Billboard magazine Top 100 Artists of All Time, and #79 in Rolling Stone's 100 Greatest Artists of All Time.
Tempting isn't it? Now give in and click that 'book tickets' button now!