NYCB Theatre at Westbury | Westbury, New York
They say three's a crowd, but it makes for one cozy and enchanting evening when three breathtaking voices come together in a captivating live concert performance. Experience the magic of three tenor voices with The Irish Tenors. As initially seen on TV's PBS Specials, The Irish Tenors are stepping into the spotlight of a live concert theatre stage at the NYCB Theatre at Westbury on Saturday 14th December 2019. Here, they would deliver their best-loved renditions of "Danny Boy," "Shenandoah" and the late Leonard Cohen's "Hallelujah", and a whole lot more. Make sure you're seated comfortably and having a great view of the stage because each song would take your breath away and stir your emotions and move them to breathtaking heights. The key is to book your tickets early. And yes, you can book them without having to leave your sit. Right at your fingertips and on this screen is the 'buy tickets' button that will give you access to pick the best seats of your preference. A lot of eyes are searching and booking tickets at the moment. Beat the clock and the crowd, book your tickets now!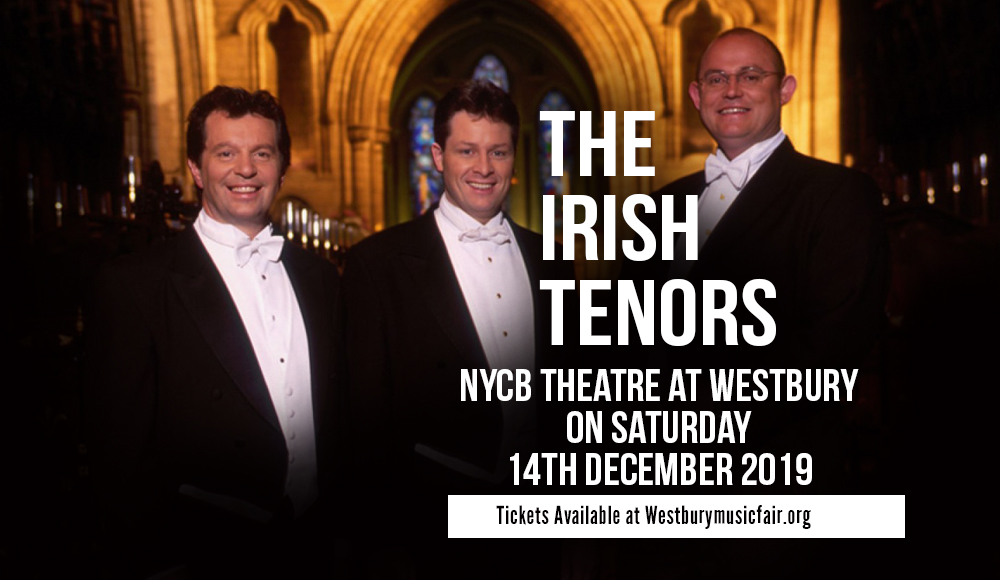 The Irish Tenors are the brainchild of PBS producers Bill Hughes and Daniel Harte. Since their inception in 1998, the search for a line-up ended with the formal introduction of Finbar Wright, Anthony Kearns and Ronan Tynan. The Irish Tenors' debut performance –"The Irish Tenors: Live in Dublin," first aired on PBS in 1999. From there, they have released and recorded five PBS specials and eight albums. The Irish Tenors rekindled America's love for Ireland's musical heritage, and for some, a discovery of a musical style and genre characteristic of an aching, poignant, and bittersweet melodic charm and emotional intensity. The Irish Tenors emboldened it with their unexplainable power of three — voices, persona, and showmanship.
The Irish Tenors have masterfully did their own renditions of a wide repertoire of all-time favorite hits such as "My Heart Will Go On" (from Titanic), "Fairytale of New York"(previously recorded by Kirsty MacColl and The Pogues), and even Jimmy Kennedy's "South of the Border" living comfortably alongside "Danny Boy," "Whiskey in the Jar," and "Fields of Athenry." "In 2001, the Irish Tenors made history as PBS broadcast their live recording from New York's Ellis Island, hosted by Irish-American actor Martin Sheen. The "Ellis Island Recordings." entered the Billboard's Heatseeker list and landed on its "Top 10 Best of 2001."
The Irish Tenors not only sold albums in the millions, but performed to sell out crowds at top-tier venues like the Radio City Music Hall, Sydney Opera House, Carnegie Hall, The Hollywood Bowl, and major concert halls throughout the world.
A must-see concert of a lifetime…book your tickets now!