NYCB Theatre at Westbury | Westbury, New York
From the entirety of modern music, The Beatles possibly had the most significant impact on the origin and history of tribute bands, and out of all the various tribute acts, The Fab Four are arguably the best of the best tribute bands emulating the original Beatles! They are so amazingly great, they were Emmy nominated for their PBS Special performance, The Fab Four – The Ultimate Tribute, in 2013, and continue to pack venues with sold-out concerts! So grab some tickets to The Fab Four – The Ultimate Tribute coming to NYCB Theatre at Westbury on Saturday, August 19th 2023. Founded in 1997 by Ron McNeil, The Fab Four is a California-based Beatles tribute band, known for playing the entire Beatles' songbook as well as many of the solo singles of the original Beatles members. Although this Beatles tribute band has seen many-a-member shuffle over time, they are still as close to the original in sound and look as can be.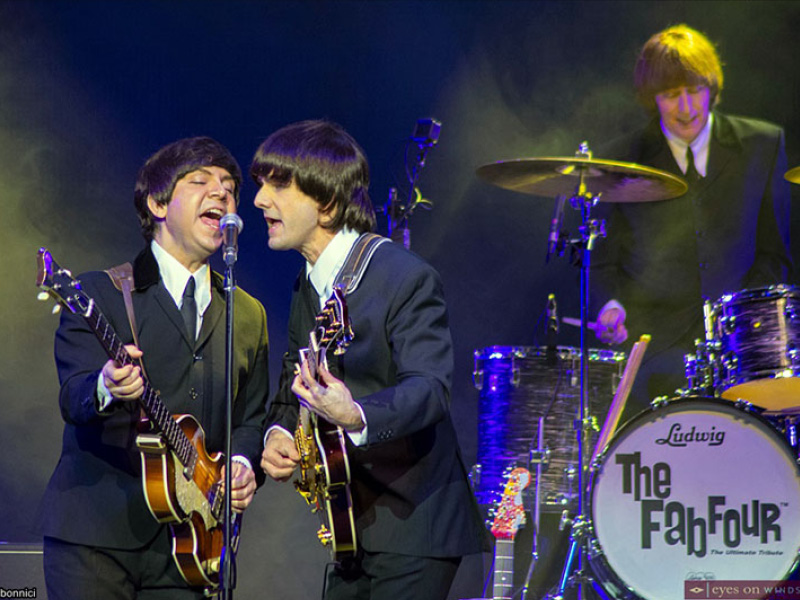 Ardy Sarraf as McCartney, Adam Hastings as Lennon, Gavin Pring as Harrison, and Joe Bologna Starr have been the most common Fab Four lineups since 2019. However, the lineup changes frequently and frequently between shows, so expect to see Ron McNeil, Jon Fickes, Neil Candelora, Joshua Jones, Doug Couture, Robbie Berg, Erik Fidel, or Richard Lewis on stage.
The band has also released three Christmas theme albums: A Fab Four Christmas, Have Yourself an FAB-ulous Little Christmas, and HARK! A digital re-master of both previous albums. They also have two live albums, The Ultimate Beatles Tribute in Concert, Vol. 1 and TV Special Soundtrack, which is a recording of their EMMY Award-winning PBS special, The Fab Four: The Ultimate Tribute, which was recorded live in January 2012 at Pechanga Resort & Casino.
The Beatles may be credited with inspiring the formation of genuine tribute bands, in which each group member was responsible for rivaling either John, Paul, George, or Ringo. It is believed that the tribute band's history began with Elvis impersonation in the early 1960s. Until now, audiences had only seen "tribute acts" performed by a solo artist, such as Elvis impersonators. In the case of Elvis, it's difficult to pinpoint when and where the first Beatles' tribute band began performing.
One of the primary reasons tribute bands became so popular so quickly was their dedication to the original group. An attempt to keep the music of legends such as ABBA, The Doors, Led Zeppelin, and others alive and discoverable for a new generation of music fans. A trend began to emerge in the 1980s and 1990s, and tribute bands held concerts during this time. Breaking out of the shadows, tribute bands like Aussie Floyd were no longer satisfied with playing in clubs or local festivals. Instead, they started a concert tradition, and their repertoire expanded to include concept albums played in their entirety, attracting die-hard Pink Floyd fans.
The 1980s brought with them an unanticipated and unexpected, debatable issue: whether tribute bands are legal. The popularity of tribute bands and their use of large venues for concerts raised concerns about copyright infringement. Some established artists did not want tribute bands to perform their music and took legal action to stop them. As a result, bands like Aussie Floyd, Björn Again, and others began holding sell-out concerts all over the world. The success of international concerts and tours was another pivotal moment in the history of tribute bands. With the original band's popularity came the availability of a limited number of tickets to performances, and marketeers quickly latched onto the idea of emulating the original artists and making tickets to very similar, if not authentic, live performances and shows available.