NYCB Theatre at Westbury | Westbury, New York
Close your eyes and…see, hear, and experience the closest thing you can get to a Beatles' reunion concert! There are a gazillion Beatle-tribute bands out there, but not everyone could live up to the Beatles' moniker — The Fab Four. Dubbed as The Ultimate Tribute concert, The Fab Four are geared-up the deliver spot-on renditions of purely oldies, goldies, and biggie hits from the Beatles' epic discography. The Fab Four The Ultimate Tribute show at the NYCB Theatre at Westbury on Friday 3rd May 2019, expect multi-generational Beatle fans coming together to roll up and go on this magical mystery tour. With die-hard fans twisting and shouting to get their hands on tickets, act fast and don't miss the boat…well rather, the Yellow Submarine that would take you deep into a treasure trove of Beatles' songs you've been longing to hear live for so long. Book your ticket to ride for this exciting musical journey!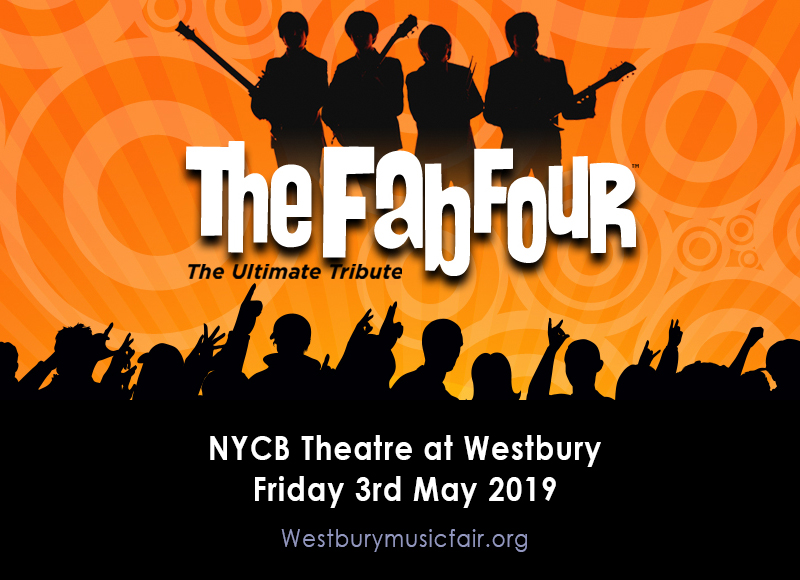 California based Beatles' tribute band who call themselves The Fab Four was founded by Ron McNeil, who also takes in the role of 'John Lennon'. Since its inception in 1997, the band has been playing as The Beatles for over 12 years where they have managed to cover almost the entire Beatles catalog plus some of the individual members' solo hits.
Apart from the note-for-note live renditions, they also included costume changes in their act ranging from the mop-topped Beatles, the Sgt Pepper psychedelic Beatles, down to the bearded Abbey Road Beatles. And as if these were enough, they've gone to the extent of doing a carbon copy of their mannerisms, their witty-trademarked spiels and stage banter. And all these happen right before your very eyes — live and in the flesh.
The impeccable song line-up and sequence will keep audiences singing along, or perhaps replicating fan reactions during the height of Beatlemania. It could start with the intention to "Please Please Me", the desire to "I Wanna Hold Your Hand", the overwhelming emotions crying out for "Help", the blissful vibe of "Here Comes the Sun", a nostalgic trip down "Penny Lane", that would lead to a "Hello Goodbye", and conclude with "The End"… Indeed, a splendid time is guaranteed for all!