NYCB Theatre at Westbury | Westbury, NY
The Celtic Tenors are said to be one of the most traveled live performers. Shuttling back and forth to the USA, Canada, Germany, the Netherlands, and other continents around the globe, it is indeed such a treat to be able to catch them as they hit the stage of the NYCB Theatre at Westbury on Thursday 7th March 2019. In between travels. they have managed to amass a long stretch of ardent fans from many parts of the world. Hence, it would come as no surprise that The Celtic Tenors' show is one red-hot ticket. Their virtuosity of masterfully blending Celtic and opera with contemporary pop songs appeals to a multi-generational audience. Their impassioned energy is uplifting and infectious that make audiences keep coming back for more. Don't miss out on this beautiful soul-stirring experience. Book your tickets now.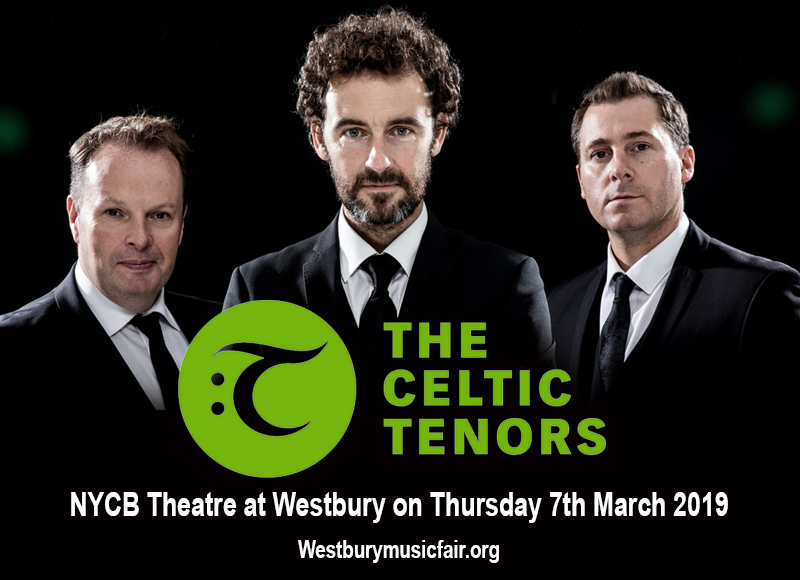 In October of 1995, three talented lads got together and performed as Three Irish Tenors on RTÉ's Theatre Nights. With some line-up changes, the trio adopted the new name The Celtic Tenors, and was soon signed by a major record label. Their music identity revolved around Celtic music and opera, masterfully blended with flavors of contemporary pop music. Their wonderfully unique approach to their music genre was the perfect complement to their impassioned energy for performing live onstage. With this, their fan following swelled to various parts of the world — taking them to various stages in the USA, Canada, Germany, the Netherlands, and other continents around the globe. The Celtic Tenors released a whopping collection of seven studio albums, namely, "So Strong" and "The Irish Album" (2002), "We Are Not Islands" and "Remember Me" (2005) and "Hard Times" (2009), and "Feels Like Home" (2011). Their eponymous debut album achieved double platinum status, charting at No.1 in Ireland and Germany, Number 2 in the UK, and giving them the "Echo Award" for "Best Classical Crossover Act" in Germany.
It is great listening to them on record but nothing beats the live experience of witnessing such a superb act. Catch The Celtic Tenors live, and live to cherish this momentous experience.