NYCB Theatre at Westbury | Westbury, New York
In honor of the 50th anniversary of The Beatles, A cast of over 20 of the world's most renowned Beatles tribute musicians have come together to offer the world's only live concert of the Beatles masterpiece "Love", Bringing you such loved classics as 'Hey Jude', 'Strawberry Fields Forever' and ' All You Need Is Love'. Preforming with live string and horn orchestration, theatrical beauty, high-energy and rock-n-roll flare! This once in a lifetime musical comes to NYCB Theatre at Westbury on Saturday 8th February! Be sure to mark this one in your calender!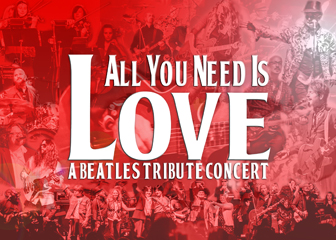 The Beatles possibly one of the greatest and most influential bands of all time. The British Rock band, formed in 1960 in Liverpool England, and consisted of 4 members; John Lennon, Paul McCartney, George Harrison, and Ringo Starr.
The 4 British rock stars began a craze soon to be known as Beatlemania, spreading their message of peace and love it traveled around the world captivating the youth and dominating the rock era. The Beatles has evolved so much to become much more then just a band and has now developed into musical icons, that captivate our hearts with every note sung and riff played.