NYCB Theatre at Westbury | Westbury, New York
The Last Comic Standing may have capped the season, but it ain't over 'til it's over, as they have to conquer new battle grounds. Yes, they're embarking on a 51-national live tour. Drop by the NYCB Theatre at Westbury on Sunday 28th September 2014, and laugh 'til you drop!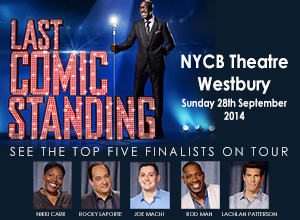 They surely elicited enormous LOLs on TV; can they make you laugh out loud, live? NBC's "Last Comic Standing" finalists, including its proclaimed big winner, Rod Man, will go on a laugh trip that would make their fans and followers experience their humor, wit, timing and amusing punch lines on the live stage.
The Last Comic Standing started airing in 2003, then went on a brief hiatus in 2010, til it resumed a new season run last May 2014. This compelling and emotionally packed search for the country's funniest, has put aspiring comedians to the test in terms of their abilities in delivering – sketch, improv and stand-up types of comedies.
If you're looking for funny…you've come to the right place! All you have to do is buy a ticket, sit back, relax, and brace yourselves, because in more than an hour or two, you'll find yourself rolling on the floor, laughing your heart and guts out. Don't be the last fan standing outside without a ticket. Go, get your tickets now!