Westbury Music Fair | Westbury, New York
Alternative rock bands that lorded over the 90s are conquering the music scene anew with 'Summerland Tour 2013.  Prepare to surrender your alt-rock sensibilities to these top notch rock and rulers — Everclear, Live, Filter & Sponge, in one show dubbed as 'Summerland 2013: Alternative Guitars'  They're all on the road and all set to seize the Westbury Music Fair in New York on June 12, 2013.  Show starts 8:00 PM.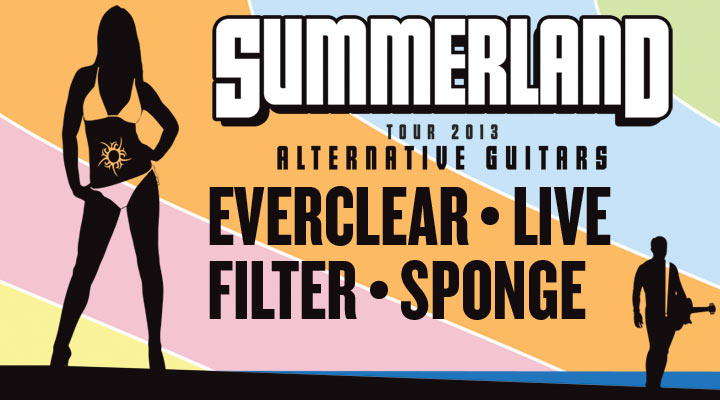 The Summerland Tour made its debut in 2012.  At the helm of  this annual 90s music tour are Everclear's Art Alexakis and Sugar Ray's Mark McGrath.  Inspite of its only-two-year existence, it has been named by  Rolling Stone as one of "The Ten Hottest Summer Package Tours of 2012".  This year's line-up– Everclear, Live, Filter & Sponge, have been chosen to represent the edgy, rock-heavy temperament of these bands.
Inspite of several member changes, Everclear is still going strong under the direction of its only original and founding member Art Alexakis (vocals and guitar).  Everclear broke out in the 90s with the single "Santa Monica", which catapulted their major label debut 'Sparkle and Fade' to platinum status.
Live is now actively touring with new lead vocalist Chris Shinn.  Their worldwide breakout success came with the release of the album 'Throwing Copper'.  Live is considered one of the most influential bands of the decade.  Live has experience Billboard chart successes and has sold over 20 million albums, to date.
One of the most prominent bands representing the industrial alt-rock scene was Filter.  They have released five studio albums to date and are still very much active in both the recording and the live music scene.
Are you ready kids? Sponge started playing in their hometown, Detroit.  They are said to be the forerunners of the 90s post-grunge era.
Summerland Tour founder Art Alexakis says: "This year, we've brought a decidedly edgier flavor bill to satisfy all of the fans of Nineties rock & roll out there."  So hop on and join the trip to Summerland — a place and time when the 90s will come alive again.  Don't miss the bus!  Get your tickets now!