Westbury Music Fair | Westbury, New York
Move over, Glee's New Directions and The Warblers…Straight No Chaser is the real deal.  With their intoxicating voices, their soaring and powerful song renditions, and amusing showmanship, you'll definitely take them bottoms up, and will be asking for another round. Straight No Chaser will serve their music to you bubbling, sparkling, and overflowing…catch them on the 20th of December 2012 at the Westbury Music Fair.  Doors will pop wide open and curtains will rise at 8:00 pm.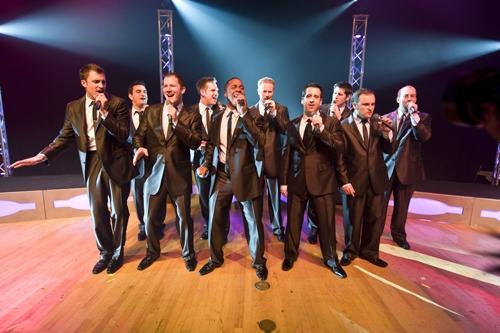 "We take the music very seriously; we just don't take ourselves too seriously.", says Straight No Chaser's original member Randy Stine.  And who thought no one would take their YouTube video upload seriously?  Not those 15 million viewers who watched their video singing "12 Days of Christmas".  And certainly not Atlantic Records who signed them up for a five-album record deal in 2008.  Indeed, Straight No Chaser is seriously too good to be just 'another YouTube viral video superstar' who would be big today, then gone tomorrow.
The group was actually formed way back in 1996  at Indiana University in Bloomington, Indiana; they were college students back then.  The video of  their rendition of the "12 Days of Christmas" posted on YouTube, was recorded way back in 1998.  Ten years later,  Craig Kallman, CEO of Atlantic Records, was on the phone with Randy Stine,  asking him if the group would consider reuniting to record a new album.  And the rest, as they say,  is now embedded in Billboard's chart music history.  Their 2008 debut, HOLIDAY SPIRITS, charted at No. 4 on Billboard's Top Holiday Albums chart and perched atop Amazon's music charts for 2 weeks, and topped the iTunes sales chart for five days.  "The 12 Days of Christmas," which is a mash-up with Toto's "Africa," hit the Top 5 on the Adult Contemporary chart and was Top 10 on the Christmas radio chart. The subsequent CHRISTMAS CHEERS in 2009 was No. 6 on the Holiday Albums and figured at No. 38 at the Billboard 200.  The turn of events was definitely unexpected and caught them by surprise. Stine says:  "A music career was definitely not on my radar; getting the guys back together, not just for someone's wedding or bachelor party, but to spend the majority of the year together touring and recording, is a dream come true." …"I pinch myself all the time and hope it continues and becomes a longstanding career."
If you want to be in high spirits, take you, your family, and the whole gang to Straight No Chaser.  Make this a part of your holiday shopping list, buy your tickets now!  Cheers!