NYCB Theatre at Westbury | Westbury, New York
It's party time, Gen-Xers! The blue-eyed uber posters of the 80's are back! Indeed, Spandau Ballet, with its all-original line-up, will sweep you off your feet like it's 1985! Part of their 'Soul Boys of the Western World Tour' is their highly anticipated show at the NYCB Theatre at Westbury on Saturday 7th February 2015. It's true, this moment is worth far more than gold. Don't ever let this slip away…Get your tickets now!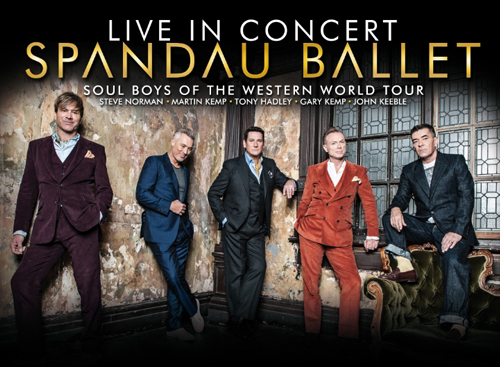 "We are over the moon at rediscovering our friendship and are really looking forward to playing live in the US again…Playing live is what we do best! The shows will have all the hits and more," says Tony Hadley, the suave, blue-eyed lead vocalist of iconic 80's super-group Spandau Ballet.
Who wouldn't be thrilled to see these extremely gorgeous poster boys reunited once again on the live stage, re-fuelling our memories with their gigantic hits? "True", "Gold", "Round and Round", "Only When You Leave", "Lifeline", "Through The Barricades," and many more…these songs were anthems of a generation.
The world is definitely excited to see the band in its original form. Tony Hadley – lead vocals, synthesisers; Gary Kemp – guitar, keyboards, backing vocals; Steve Norman – saxophone, guitar, percussion; John Keeble – drums, backing vocals; Martin Kemp – bass. Their polished, glammed-up, fashionista look and their soulful synth-pop brand of music, put them atop of their game. Spandau Ballet put the romance into the so-called 'New Romantics' music movement.
If the 80s for you was just a blur…this is the perfect time for you to rewind, relive, and reconnect. This Spandau Ballet concert is just the perfect moment for it. Don't miss it!