NYCB Theatre at Westbury | Westbury, New York
The big man of comedy, Sinbad, is back to conquers the stage with his unique style of 'hit 'em in the face' brand of comedy. Catch his show at the NYCB Theatre at Westbury on Friday 12th September 2014.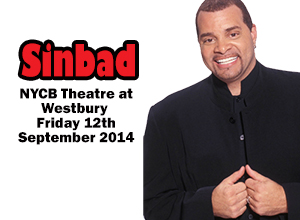 Has life been so cruel and miserable on you? Have you had your share of trials and tribulatiions, pain and embarrassments? Well, Sinbad can shove those moments in your face that you'd die…laughing! Yes, he's got that knack of taking your miseries upside down and inside out that you'll shed tears of laughter. Regarded by Comedy Central as one of the top 100 comedians of all time, Sinbad has not only made raves on the stand-up comedy arena. He's a TV star who has established a loyal following from his sitcoms "A Different World" (1986), "The Sinbad Show" (mid-90s), guest apperances in The Cosby Show, as well as TV specials such as "Brain Damaged" (1991), "Afros and Bellbottoms (1993), "Son of a Preacher Man" (1996) and "Nuthin' But the Funk" (1998). Sinbad also gained Hollywood and global fame from his movies "Jingle All The Way", "The Houseguest", and "Necessary Roughness".
If life's treating you bad, then get a dose of the best medicine there is — laughter. The big funny man, Sinbad, is in! Get your tickets now!