Westbury Music Fair | Westbury, New York
This concert experience is like stepping into a time machine that would take you back to the rollicking hey days of Beatlemania!  "Rain – A Tribute to The Beatles" has enthralled millions of Beatle fans all over the world.  Each production number merits a resounding 'yeah yeah yeah' from the crowd. Beatle fans are the hardest to please for they have the ears to recognize every single note on every single Beatle song, and the eyes to discern every single move, gesture, style and costume of every single member of the Beatles.  "Rain" is certified 'Beatle-fan-approved', and a splendid time is guaranteed for all!  Catch "Rain – A Tribute to The Beatles" playing 2 shows at the Westbury Music Fair on April 20, 2013.  Matinee show starts at 2:00 pm and evening show starts at 8:00 pm.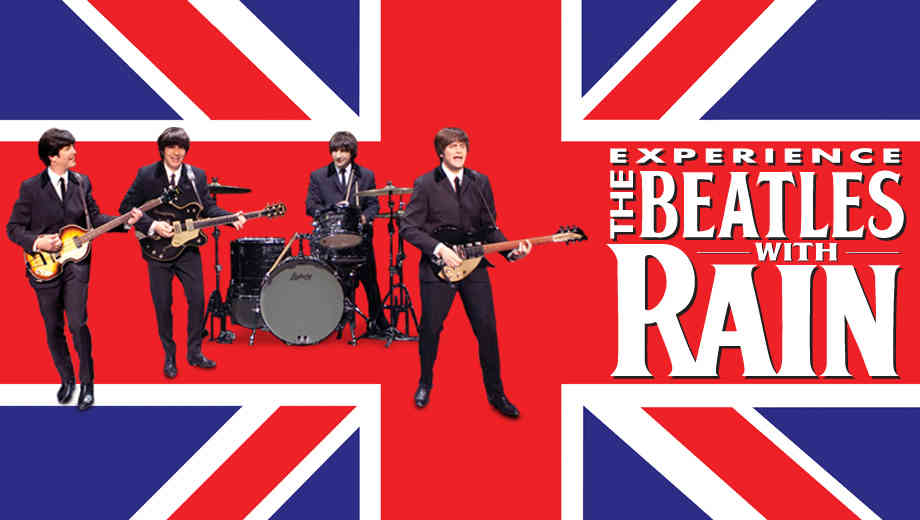 "Rain" was borne out of the Broadway musical production "Beatlemania", which ran 300 shows on Broadway, from October 2010 to July 2011.  From Broadway, they went on the road to tread the live concert circuit, bringing their act to different concert stages all over the world.  RAIN has played nearly 800 shows to over a million people worldwide,  and has grossed $55.5 million worldwide since 2008.  It has peaked at number 8 on Pollstar's worldwide touring charts, joining the ranks of artists such as Lady Gaga, Bon Jovi, and Elton John.
"The audience is enraptured. They get a chance to sing along, twist and shout, and generally make like swooning teenyboppers from the 1960s as the hits roll by and the endorphins kick in." – The New York Times
The cast and production of "Rain" has meticulously worked together to come up with one of the most challenging re-enactments of all time — reliving the air of nostalgia and the thrill of Beatle-mania. Their entirely live performance not only sounds like The Beatles, but every note on every song  sounded and echoed as if John, Paul, George, and Ringo were singing and playing them. From the costumes down to the spiels, ad libs, and facial expressions — looks and feels as if each Beatle member was looking at themselves in the mirror.  And if you're wondering if the cast member who does Paul is playing bass left-handed?  Yes, he has learned to do so.  "Rain" is indeed the real-deal, and Beatle fans love them, yeah yeah yeah!
Beatle fans from all generations come together to twist and shout and hear the next-best-thing-to-The-Beatles play good ol' rock and roll music by the iconic fab four. Experience the exuberant era of Beatle-mania.  Roll-up for the magical mystery tour of "Rain".  It's an invitation, make a reservation, or just get your ticket to ride to this exciting musical journey!