NYCB Theatre at Westbury | Westbury, New York
What's the forecast for Saturday, 21st February 2015? Expect a heavy down pour of music, love, memories, and Beatlmania excitement! Rain – A Tribute to The Beatles comes to NYCB Theatre at Westbury on Saturday, 21st February 2015. Touted as "the first, longest running, and most successful Beatles tribute show in the world", Rain is a musical time machine that will take you back to the times and tunes from the biggest and most iconic band that rocked music history. Get a ticket to ride in this magical mystical and musical journey of a lifetime!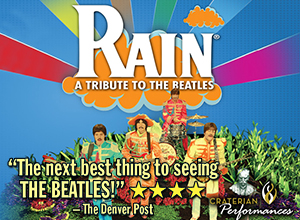 The Denver Post proclaimed this show as 'the next best thing to seeing The Beatles!' If you were too young, missed, or totally was not around during the 60s, "Rain" is definitely the show that will take you back and relive the music that defined an era and inspired many generations of music lovers.
The Beatles were the most iconic and most celebrated band in history, bar none. Rain – A Tribute to The Beatles, is a live, multi-media show the will magically turn the stage into a Beatlesque spectacle. The musicians and the band members behind the so-called 'reincarnations' of John, Paul, George, and Ringo are accomplished musicians who look, dress, act, talk, sing, and sound like The Beatles. Every little thing about them is eerily-amazing. 'Rain' is not merely a tribute band performance. It is an odyssey to the most kaleidoscopic and exciting era in music history.