NYCB Theatre at Westbury | Westbury, New York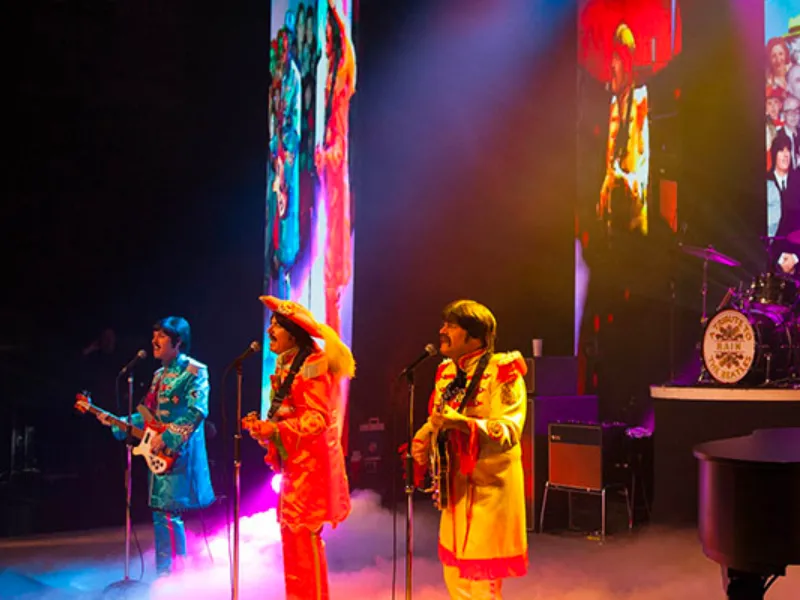 Calling all fans of The Beatles! Get ready for a mind-blowing live performance from Rain: A Tribute To The Beatles. The band is going to take you on a journey back in time delivering a theatrical event that's "the next best thing to seeing The Beatles!" (Associated Press). The trip is going to take you through the iconic eras of Sgt. Pepper and Magical Mystery Tour in addition to songs from the early years all the way to Abbey Road.
Catch Rain: A Tribute To The Beatles when it arrives in Westbury, New York! They will perform live at the NYCB Theatre at Westbury on Wednesday, the 10th of April, 2024. If you're a die-hard fan of The Beatles, you're going to love this show. It's going to feel like you're right back in the 60-70s!
Grab your tickets to the show right now because tickets are selling out fast! Click 'GET TICKETS' to make your purchase!
"The enraptured audience relives the soundtrack of its life!" - Chicago Tribune
RAIN: A Tribute to the Beatles is an electrifying concert celebrating the timeless music of the legendary fab four. They play the Beatles' songs with great accuracy, taking you back to the times of Sgt. Pepper and Magical Mystery Tour. You'll hear all your favorite songs. The band wears colorful outfits and uses cool visuals, making the show a trip down memory lane. This concert is for everyone, no matter your age. It's a special journey through time and music that will touch your heart and inspire you.
The tribute band has been Together longer than The Beatles, and they have mastered every song, gesture, and nuance of the legendary foursome. They're coming to New York, delivering a totally live performance as infectious as it is transporting.
The current members are:
Steve Landes. He's a lifelong Beatles fan from a family of Beatles enthusiasts. He began playing the guitar when he was just 10 years old. His inspiration came from listening to Beatles records. By the time he was 13, he was already performing as the lead singer in a Top 40 cover band in his hometown of Philadelphia. At 17, Steve became a part of Beatlemania and honed his musical skills, traveling the world as part of the show. In 1998, he successfully auditioned to join the existing RAIN band members, which marked a turning point in his career. During one of his trips to England, Steve had a remarkable experience at Liverpool's Casbah Club, owned by the pre-Ringo Beatles drummer, Pete Best.
Paul Curatulo. As a kid growing up with RAIN, Paul was deeply influenced by The Beatles. He started his musical journey at the age of ten, teaching himself the drums. He quickly picked up the guitar and piano, which inspired him to create and record his own music. Paul's passion for The Beatles motivated him to immerse himself in the character of Paul McCartney, paying attention to every detail, from vocal nuances to playing the bass left-handed. For Paul, it's a true honor to pay tribute to his musical idol.
Alastar McNeil. He is the newest member of the band. He grew up on the beautiful island of Oahu, Hawaii, surrounded by musicians who often played ukuleles and guitars. These instruments had a profound impact on his life. Alastar became an expert in crafting ukuleles, even overseeing a local factory for a period. Eventually, he made a career change to follow his dream of becoming a full-time musician."Playing with RAIN has challenged and improved my ability to express myself not just as a musician but as an actor and entertainer as well. Nothing is more thrilling!"
Aaron Chiazza. Aaron Chiazza's musical journey began at the tender age of 5 when his parents surprised him with a drum set. However, even a kindergartner's enthusiasm proved too much for the little kit, and he soon upgraded to a full-sized drum set in his early elementary school years. As he grew, Aaron delved deeper into music by studying it in both high school and college. He actively participated in Jazz, Symphonic, and percussion ensembles, further honing his musical skills. In addition to his work on original projects, songwriting, and live performances, Aaron also finds great joy in working as an audio engineer and expressing himself as an artist.
Catch them all live as they pay homage to the beloved band when they arrive at the NYCB Theatre!