Westbury Music Fair | Westbury, New York
Can you believe teaching your children about life lessons like moderation can be so leisurely fun?! Enjoy quality time with your kids while infusing them with the power of self-control. The popular tale written by Victoria Kann and Elizabeth Kann, Pinkalicious will come to life for a pinkerrific  Musical on 11th of July 2013 right at the pink-doused stage of Westbury Music Fair in New York. Merriment starts at 11:00 AM.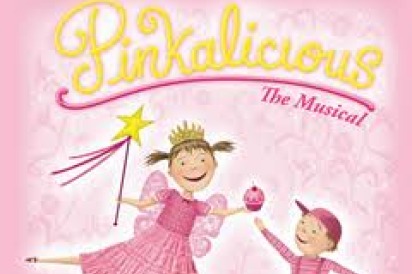 "Too much of a good thing is a bad thing" – this holds true in the case of the little witty girl Pinkalicious who has irrepressible cravings for pink cupcakes. Because of the ailment called Pinkititis, she turned entirely pink! What to do? Dr. Wink advised a completely green diet! Good thing, Mr. and Mrs. Pinkerton and her brother little Peter is with her all through the way. Her mom's broccoli pops and brussel burger seem so lip-smacking! Will Pinkalicious' health be restored? You pinkaholics should find out!
The exquisite pink set, lively dances, charming tunes, the dancing cupcakes, dashing performances, radiant singing voices  and the overall visual appeal makes this musical a very special experience for kids and parents. Eating nourishing foods – no to artificial colors and too-sugary snacks! – is highlighted in this excessively cute story. But the extra lessons are equally beneficial – parents should make more time for their children, friends should keep their promises, a child must be obedient. Kids are sure to have an amazing day with this irresistibly delightful and jolly musical.
Pinkalicious the Musical is the perfect treat for your lovely little kids. Get your tickets now.