NYCB Theatre at Westbury | Westbury, NY
Think pink. Love pink. Turn pink?! Pinkalicious The Musical is a wonderland of all things bright, beautiful, and pink! Take the whole family to this pink adventure land coming to the NYCB Theatre at Westbury on Tuesday 12th August 2014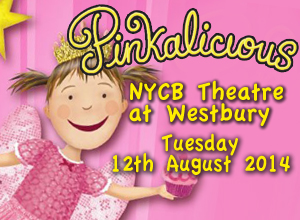 "Pink, pink, pink. More than anything, Pinkalicious loves pink, especially pink cupcakes! Her parents warn her not to eat too many of them, but when Pinkalicious does… she turns pink! What to do?…This sparkling picture book…celebrates all things pink while showing that being yourself is best of all."
–as seen on the inside jacket cover of Pinkalicious by Victoria and Elizabeth Kann.
"Pinkalicious The Musical" was adapted from the book "Pinkalicious," authored by sister team Victoria Kann and Elizabeth Kann. The former is an accomplished and multi-awarded childrens' story book writer and illustrator; while the latter is a doctor by profession. With the success of the book — with kids catching the 'Pinkititus', the musical now breathes life into the colorful pages and storylines, and turns it into larger than life musical theater experience.
If you want to get tickled pink with the fun and mischief, yet heart-warming values and lessons from Pinkalicious and her supportive family, the Pinkertons — this show is definitely for the whole fambam! Get your tickets now!