NYCB Theatre at Westbury | Westbury, New York
Pop legend and superstar choreographer and dancer Paula Abdul comes to NYCB Theatre at Westbury on Friday 12th October 2018 as part of her Straight Up Paula Tour! The incredible artist, whose career has seen no end of high-profile collaborations and successes, is celebrating thirty years since the release of her debut album, and will be performing hits like "Straight Up," "Forever Your Girl," "Opposites Attract," "Rush Rush" and "Cold Hearted"!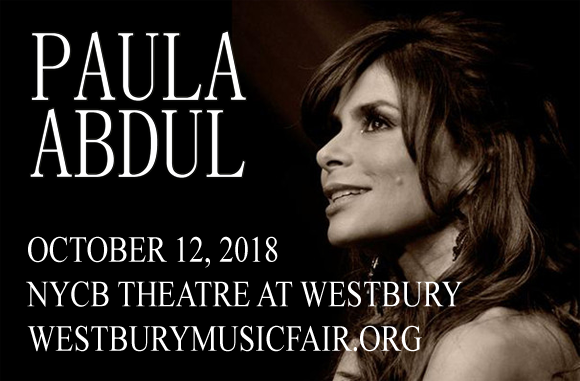 American dancer, choreographer, singer, actress, and television personality Paula Abdul began her career aged 18 as a cheerleader for the Los Angeles Lakers. After going on to become head choreographer for the Laker Girls, Abdul was discovered by the Jackson family and she began to choreograph music videos for Janet Jackson, notably "Nasty" and "Control". She soon became one of the most sought-after choreographers at the height of the music-video era, and her dance success lead to a record deal with Virgin Records in the late-1980s upon the discovery that she could also sing. Abdul's debut album, Forever Your Girl (1988), became the most successful debut album in history at the time, reaching number one on the Billboard 200 chart after 64 weeks (where it would spend 10 weeks at the top spot). The album set a record for the most singles from a debut album to reach number one on the Billboard Hot 100 chart in the United States ("Straight Up", "Forever Your Girl", "Cold Hearted", and "Opposites Attract") and was certified platinum in 1989. Throughout the 1980s and 1990s, Abdul received choreography credits in a number of blockbuster films, including: Can't Buy Me Love (1987), The Running Man (1987), Big (1988), Coming to America (1988), Action Jackson (1988), The Doors (1991), Jerry Maguire (1996), and American Beauty (1999). From 2002 to 2009 Abdul was a judge for the series American Idol, and she has since appeared as a judge on The X Factor, Live to Dance, and So You Think You Can Dance. She has received a number of honours throughout her career, including a Grammy Award, two MTV Video Music Awards, two Primetime Emmy Award for Outstanding Choreography, as well as a star on the Hollywood Walk of Fame and the honor of being the first entertainer to be awarded with the Nickelodeon Kids' Choice Awards' Hall of Fame Award.