NYCB Theatre at Westbury | Westbury, New York
A crooner with charisma and charm by the bucket-load, veteran performer Paul Anka comes to NYCB Theatre at Westbury on Friday 2nd November 2018 for a night of entertainment at its finest! The incredible singer and songwriter, whose illustrious career spans over sixty years, is known for a plethora of chart-topping hits like "Diana", "Lonely Boy", and "Put Your Head on My Shoulder," as well as the iconic hit made famous by Frank Sinatra, "My Way"! Get ready to sing along with this timeless pop legend!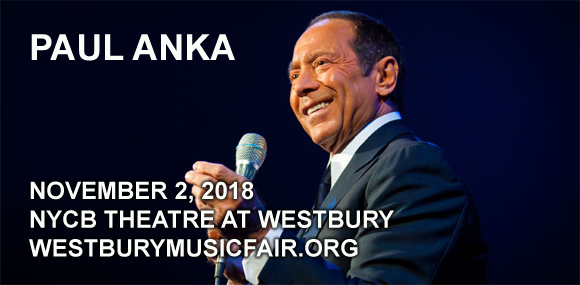 Canadian singer, songwriter and occasional actor Paul Anka began his music career as a teenager. At the tender age of 14, he recorded his debut single "I Confess", and two years later he released the single "Diana", which leapt to the top of the charts in both Canada and the US, later becoming one of best-selling singles ever by a Canadian recording artist. The following year, Anka released four Top 20 singles, cementing his popularity as one of the biggest teen idols of the era. Throughout the 1960s, Anka had widespread success, writing the theme for The Tonight Show Starring Johnny Carson, Tom Jones's biggest hit record, "She's a Lady," and the English lyrics to "My Way," Frank Sinatra's signature song, as well as releasing several huge hits of his own including "Lonely Boy." The 1970s saw even more success for Anka with the release of hit singles "(You're) Having My Baby", "One Man Woman/One Woman Man" , "I Don't Like to Sleep Alone" and "(I Believe) There's Nothing Stronger Than Our Love", as well as "Times of Your Life" – as song that was originally written as a Kodak jingle and peaked at number seven on the Billboard charts. Anka had a somewhat unexpected resurgence in 2004 with Rock Swings, a big-band covers album on which he covered such diverse artists as Nirvana, Michael Jackson (for whom he had written the 2009 posthumous hit "This Is It") and Spandau Ballet.