NYCB Theatre at Westbury | Westbury, New York
Would you like to take a nostalgic voyage? A "Timeless flight" is now boarding. So sit back, fasten your seat belts and enjoy the ride with the Moody Blues. One of pop-rock music's most iconic bands from the 60s, The Moody Blues are taking their legacy of ground breaking musical works to the live stage. One of their musical journeys include the NYCB Theatre at Westbury on Saturday 28th March 2015. Book your tickets now, don't get left behind!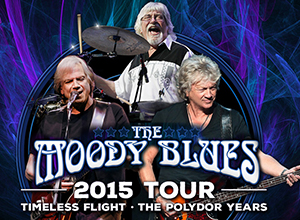 A career spanning 40 years…and the Moody Blues are showing no signs of stopping or even slowing down. They've certainly made the most out of their musical joyride that started in the 60s. With their best loved, timeless hits like "Nights in White Satin," "Go Now," "I'm Just a Singer (In a Rock and Roll Band)", "Widest Dreams,"and "The Voice," the Moody Blues have generated sales of over 70 million albums worldwide and spawned 13 Billboard Top 40 hits from their 16 studio albums released starting from the 60s to the present. With this, the band earned and were awarded 18 platinum and gold discs. They created their own musical map by taking the road less traveled and blazing new trails. While taking the pop-rock and blues route, they fueled their sound with elements classical music. The result was a heady yet enthralling sound trip. And fans from multi-generations has since been part of their epic roadtrip.
All you need is a ticket to ride…you deserve to get good seats, a good view, and music that will drive you to relive wonderful memories, relish your emotions, and move your spirit. The Moody Blues will take care of the latter. Just make sure you do your share in getting hold of those precious tickets!