Westbury Music Fair | Westbury, New York
Mike Tyson — listed by ESPN.com as the No. 1  "hardest hitters in heavyweight history", is going back to the ring. Tyson is bound to face his most fearsome opponent, the one who knocked him down and out many times over — the truth.  After a highly acclaimed and successful run on Broadway, Mike Tyson is taking his one-man-show on the road — a confrontation and a revelation of nothing but the 'Undisputed Truth'.  Directed by renowned director Spike Lee, Mike Tyson's tell-all, live, life-story will unfold onstage, as told by Mike Tyson himself.   'Mike Tyson: Undisputed Truth' is now on the road, and the next round is headed for a stop-over in New York for one-night run at the Westbury Music Fair on May 5, 2013.  Show starts 7:00 pm.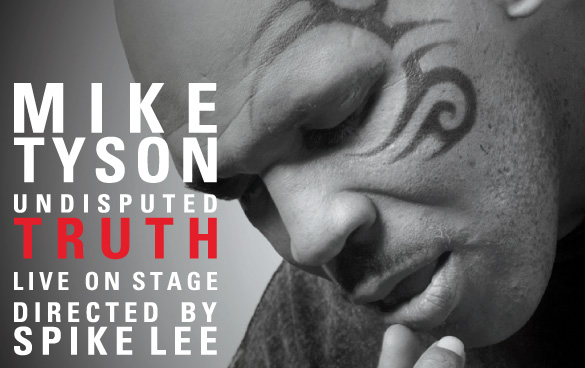 "UNDISPUTED TRUTH is my story—I'm giving my all.", says legendary boxing champ Mike Tyson.  Mike Tyson has worn the boxing heavyweight crown many times over.  He has knocked down so many a great fighters.  He's had his share of knockouts and defeats on the ring, but Mike Tyson has had to deal with tougher blows, punches, and knockouts outside of the boxing ring.
"Mike Tyson: Undisputed Truth", is perhaps one of the most courageous bouts Mike Tyson has ever faced in his career.  He may have the look that says kill, but his inner courage to bare his heart and soul and tell his story shows how he has become the fighter, the warrior, and the survivor in the battlefield of life.  This is Mike Tyson, now the story-teller,  who will reveal the tragedy and dispair he experienced from childhood to his own marriage and family life, his struggles as a young boxer, his intimidating and ferocious boxing style, his involvement with countless controversies in and out of the ring, and how he manages to survive and conquer them all.
Mike Tyson has held  undisputed heavyweight champion of the world titles, and holds the record as the youngest boxer to win the WBC, WBA and IBF heavyweight titles.   The Ring  lists Tyson at number 16 as one of of 100 greatest punchers of all time, and has been inducted into the International Boxing Hall of Fame and the World Boxing Hall of Fame.
If you've come to watch a boxing match, well, this is much tougher.  Brace yourselves for this is Mike Tyson, giving you a blow-by-blow account on his life on the fast lane.  This is much better than the ringside.  This will take you inside the heart and mind of a man who fears no one.
Buy your tickets now!