Westbury Music Fair | Westbury, New York
Are you ready to rock?! The NYCB Theatre at Westbury will be rocking hard to the sounds of Lynyrd Skynyrd from 8:00pm on Thursday the 15th of August 2013!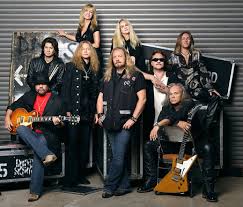 Lynyrd Skynyrd, from Jacksonville, are known for bringing southern hard-rock to popularity in the 1970's, especially with their massive hits of 'Sweet Home Alabama' and 'Free Bird'. The band has had more than just the test of time against them as they lost three members in a tragic plane crash at the peak of their success in 1977. After a decade of silence from the remaining members, the band resurfaced with new additions and no hesitation to show they still had what it takes. The band's most recent album 'Under Duress, as Usual' truly lives up to the legacy that started up thirty-five years previous. The undeniable survival of spirit and indomitable will makes Lynyard Skynard what they are today. With over sixty albums and an epic sales record that exceeds thirty million records, recognition from the Rolling Stone magazine for a placing in their top 100 Greatest Artists of All Time was inevitable. The band hit the Rock and Roll Hall of Fame in 2006.
Are you ready to rock with legends?! Tickets are available now… hurry to avoid disappointment!