NYCB Theatre at Westbury | Westbury, New York
Hear ye hear ye! Spain's pride and joy in the world of pop-rock music have set sail to conquer ears, eyes, and hearts in U.S. shores and soils. Pop-rock band La Oreja De Van Gogh is due to conquer the stage of the NYCB Theatre at Westbury on Thursday 11th November 2021with their electrifying showmanship. Spend a starry, starry night jammin' the night away with La Oreja De Van Gogh. Tickets are now on sale! Click on the 'Get Tickets' link on this page.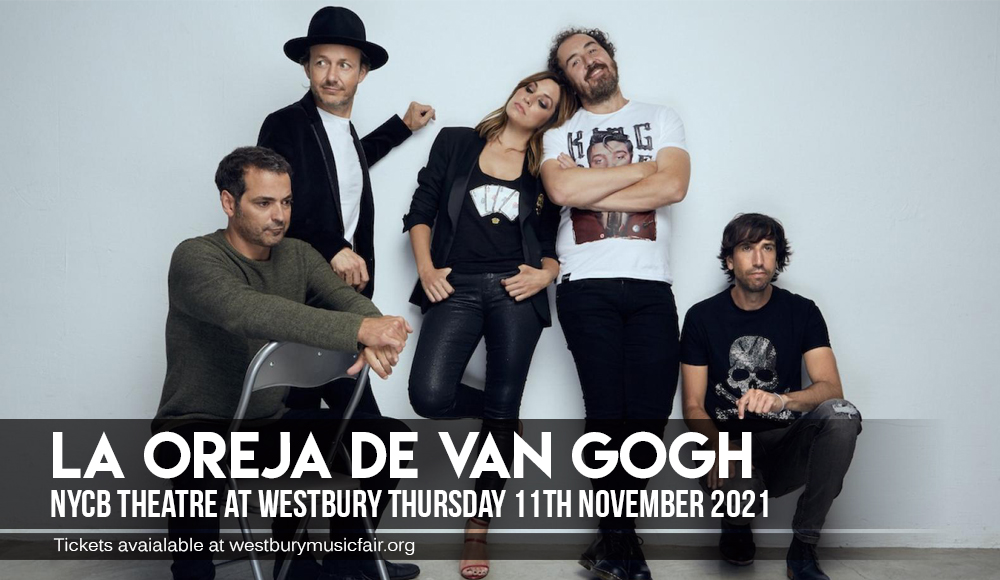 The band's name La Oreja De Van Gogh — which literally translates to 'The Ear of Van Gogh', was taken from and inspired by the story of Vincent Van Gogh severing one of his ears. Such a daring act is parallel to the band's fiercely popular and iconic status. La Oreja De Van Gogh was formed in 1996 by a group of all-male college friends who initially did cover songs of international rock bands, such as U2, Pearl Jam, and Nirvana. They started writing their own material and figured they needed a female voice to perform and record their original songs. After winning a local pop-rock music festival in their local city of San Sebastian, the band started living the dream. They were signed by a major label and debuted with the release of the album "Dile al sol (Tell the Sun)" in 1998. The album sold over 800,000 copies and was certified 7-time platinum, and the band received an Ondas Award for Best New Act.
La Oreja De Van Gogh's subsequent album releases raked bigger sales numbers, selling more than 2 million copies worldwide and getting certified as diamond records. In 2006, the band released its fourth album, "Guapa (Beautiful)", which was the best-selling album of 2006 in Spain and won a Latin Grammy for Best Pop Album by a Duo or Group and a 40 Principales Award for Best Spanish Album.
Still at the top of their game after all these years, La Oreja De Van Gogh is one the Latin music's most formidable live acts. Catch them live at NYCB Theatre at Westbury on Thursday 11th November 2021. Don't miss it!