NYCB Theatre at Westbury | Westbury, New York
Famed country singer, songwriter and actor Kris Kristofferson comes to NYCB Theatre at Westbury on Saturday 20th April 2019! The three-time Grammy Award-winning artist and Outlaw Country pioneer will be performing songs from his illustrious career, including his time in The Highwaymen alongside fellow country music heroes Willie Nelson, Johnny Cash and Waylon Jennings! A true songwriting legend and compelling performer, Kris Kristofferson is a must-see!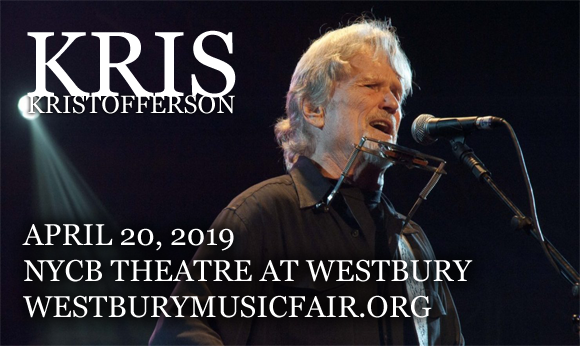 Known for the hit songs "Me and Bobby McGee", "For the Good Times", "Sunday Mornin' Comin' Down", and "Help Me Make It Through the Night", Kris Kristofferson is an American country music singer-songwriter and actor. After moving to Nashville in 1965, Kristofferson gave a tape of his music to June Carter, who passed it on to Johnny Cash, although Cash didn't listen to the tape immediately. Tired of waiting, Kristofferson, who had his pilot's licence, landed a helicopter in Cash's front yard in order to get his attention. The ploy worked, and Cash recorded a version of Kristofferson's song "Sunday Mornin' Comin' Down", winning Kristofferson Songwriter of the Year at the Country Music Awards. Throughout the 1960s and '70s, he became a sought-after songwriter, and had hits performed by Billy Walker, Jerry Lee Lewis, Gladys Night and the Pips, Waylon Jennings, Janis Joplin (who was dating Jennings until the time of her death and had a posthumous number one hit with "Me and Bobby McGee"), Joe Simon and Kenny Rogers, among others. In 1985, Kristofferson formed The Highwaymen alongside fellow country artists Waylon Jennings, Willie Nelson and Johnny Cash, inspiring the Outlaw Country movement. Kristofferson is also a successful actor, and has starred in Alice Doesn't Live Here Anymore, Heaven's Gate, Blade and A Star Is Born, the latter of which earned him a Golden Globe Award for Best Actor.