NYCB Theatre at Westbury | Westbury, New York
The Live! with Kelly and Ryan star Kelly Ripa is taking on a new venture as an author. Her first-ever book entitled "Live Wire" comes out this September. With fans itching to get their hands on the woman's new craft, Kelly Ripa is embarking on a 'small book tour' in support of Live Wire. She's heading over to the stage at NYCB Theatre at Westbury on Friday, September 30th of 2022, to meet her beloved fans and celebrate this new milestone in her career. So, make sure to save yourself a spot at Kelly's humble book tour where big surprises can be anticipated. Book your tickets now!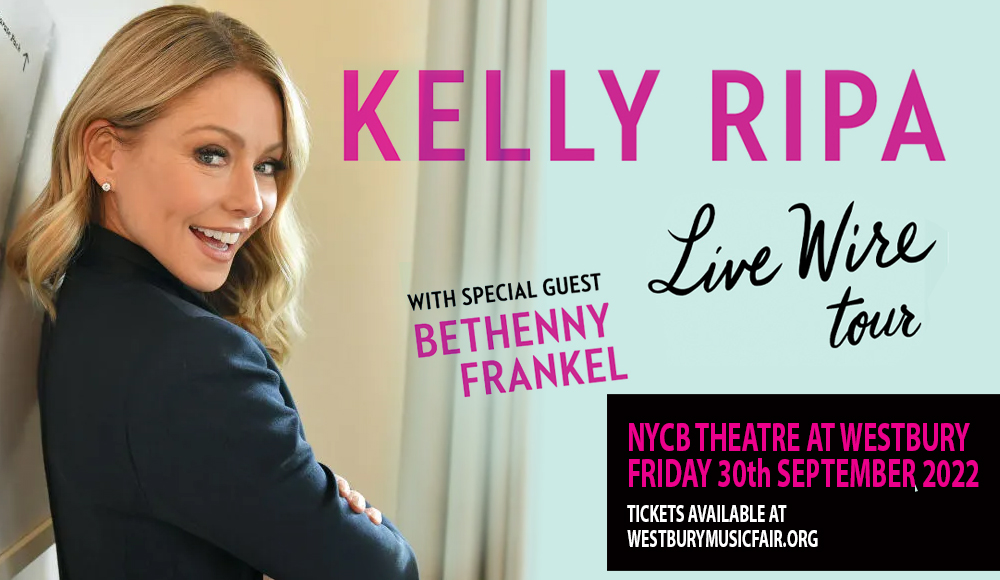 The beloved actress, host, mom, and Live! with Kelly and Ryan star just announced a big new milestone in her beautiful career. Kelly Ripa is set to drop her first-ever book, Live Wire, which hits the shelves on September 27. In support of her new craft, she's launching a 'small book tour' where fans will have the opportunity to meet the author herself. The intimate tour concludes at NYCB Theatre at Westbury on September 30th.
"Equal parts thrilled and nervous to announce my book tour for LIVE WIRE! this fall," Ripa shared on Instagram. A BOOK TOUR! Imagine that. I'll be joined by some riveting, not to mention sexy guests…"
As she announced her first book and the matching book tour, both fans and celebrities raved in the comments section in support of the new author. Andy Cohen said "THIS BOOK IS FANTASTIC!!!!!", along with other fans and celebrities expressing excitement over her new venture.
Published by Dey Street Books/HarperCollins Publishers, Live Wire is described as "sharp, funny, and honest collection of real-life stories from Kelly Ripa, showing the many dimensions and crackling wit of the beloved daytime talk show host. … Kelly shows what really makes her tick."
In a previous Instagram announcement last April, Ripa shared that it took her 18 months to write this book. "My husband said writing a book is like giving birth. He's never done either. Although it would be like giving birth, if giving birth lasted 18 months. A labor of love nonetheless."
What definitely is 'a labor of love is finally soon to be greeted by the whole world as Live Wire hits the shelves this September 27th. Along with its big release, make sure you don't miss out on the chance to meet Kelly Ripa herself at her book tour in NYCB Theatre at Westbury on September 30th by booking your tickets now!