NYCB Theatre at Westbury | Westbury, New York
For a star who got his ultimate shining moment as he debuted on the prestigious Grand Ole Opry stage, is recorded in the annals of country music history as a truly legendary milestone. That star is Josh Turner. With his music career born onstage, Josh Turner is raring to take center stage once again to delight audiences rich, deep voice and Neotraditional country – Christian music style. Catch Josh Turner at NYCB Theatre at Westbury on Thursday 2nd April 2020. As a bonafide hitmaker with fans that could be as numerous as the stars, expect fast-moving tickets. Indeed, there's a need for speed in booking tickets to this show, but you could catch it with just a few easy clicks starting with the 'buy tickets' button on this website. Start clicking right here, right now!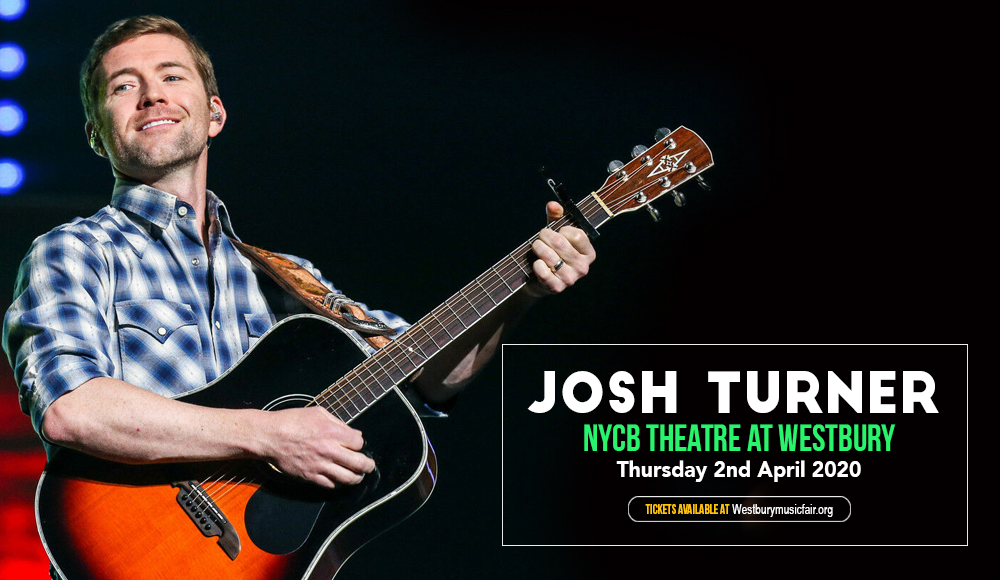 'Twas a night of December 21, 2001. Before waiting to be called and ascending onstage the illustrious the Grand Ole Opry, Josh Turner sang bass in a gospel quartet called Thankful Hearts. Legend and story circles narrate the career-ground-breaking event that happened that night. "When the curtain opened that night, no one holding a ticket to the show had ever heard of Josh Turner. But by the end of that chilly Nashville evening, the young singer was all anyone in the audience could talk about."
Armed with his guitar and his self-penned song "Long Black Train" — which has unreleased and never heard of, Turner received a standing ovation in the middle of the song, then called back for an encore during which the audience rewarded him with another standing ovation. And yes, this took place at the Grand Ole Opry stage, to boot! Turner remembers, "I was fighting back the tears out there. I couldn't think straight. I was tore up."
"Long Black Train" became Josh Turner's official debut single which spent more than forty weeks on the Billboard country charts, reaching a peak of No. 13 and receiving a gold certification. From there, his career sky-rocketed with a succession of hits singles and albums that took flung his star to the high heavens with multiple GRAMMY®, CMA and ACM Awards nominations and bagging six Inspirational Country Music Awards. Turner has collected album sales of more than 8 million units, topped more than 1.5 billion in global streaming and lorded over the airwaves with such memorable hits as "Hometown Girl," "Would You Go With Me," "Your Man," "Time Is Love," "Why Don't We Just Dance" and "Long Black Train."
"The life that I live and the experiences that I have always affect what comes out of me creatively. I think that's what makes music real." — Josh Turner
Get a real concert experience from a true shining star. A must-see concert of a lifetime. Book your tickets now!