NYCB Theatre at Westbury | Westbury, New York
No one swoons and croons like Johnny! The sublime romantic balladeer, Johnny Mathis, fits his concert title to a T: "The Voice of Romance tour 2019". His trademark suave vocal style that gave life to the most romantic and enduring love songs will fill the air once again as he embarks on this highly anticipated concert tour. Running the gamut of contemporary pop ballads, jazz standards, and holiday music, Johnny Mathis will deliver them all in one enchanting evening at the NYCB Theatre at Westbury on Saturday 13th July 2019. A Johnny Mathis concert is not only a concert for the fans, but is a family affair. Tickets are in such high demand that booking them early on is in order. Don't miss the Mathis magic. Hurry, get your tickets now!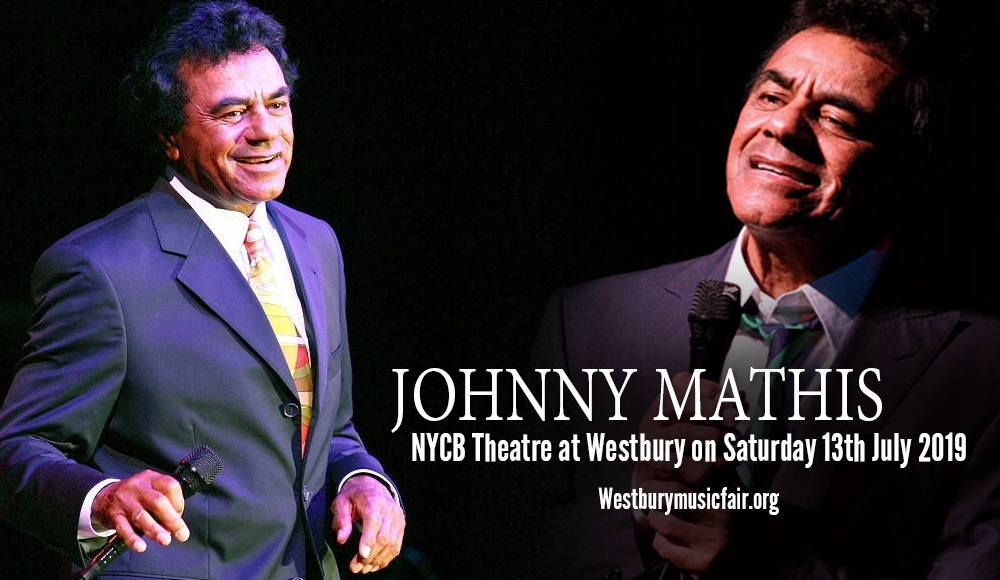 Johnny Mathis' 63-year old career as a recording artist and concert performer is a stunning achievement in itself. He has remained steadfast amid passing fads and music trends. His star still illuminates the music universe while others have faded away. He is one of the best-loved artists that truly stood the test of time.
Johnny Mathis has most likely received every major award or recognition given to top-caliber artists. A short-list of his career highlights include:
– Released a total of 80 studio albums, plus 6 Christmas albums
– Record sales of over 350 million records worldwide.
– 3 songs inducted into the Grammy Hall of Fame
– 50 Hits on Billboard's Adult Contemporary Chart
– Ranks third as the most successful recording artist of the 20th century
– Five-time Grammy nominee,
– Received the Lifetime Achievement Award from the Academy of Recording Arts and Sciences in 2003.
– An Honorary Doctorate of Fine Arts holder, as given by his Alma Mater San Francisco State University.
The above citations and accolades are indeed one for the books, but it's his timeless songs that are written with an indelible impression of love and passion in the hearts of many. "Wonderful! Wonderful!", "It's Not For Me To Say", "Chances Are", "Too Much, Too Little, Too Late", "Gina", "The Last Time I Felt Like This", "Misty", and many more evoke so much emotion and wonderful memories and have become the soundtrack of our lives and our love lives.
With a 63-year old career, Johnny Mathis is still not keen about resting on his laurels. "I don't think about retiring. I think about how I can keep singing for the rest of my life. I just have to pace myself," quips Mathis. Invite your friends, family, and loved ones and give yourselves one big group hug as Johnny Mathis fills the concert hall with the "The Voice of Romance". Book your tickets now!