Westbury Music Fair | Westbury, New York
Smell something fishy? It's not your imagination, it's the real thing. It's Imaginocean!  Tony Awards nominee John Tartaglia's extra-ordinary black light puppet show is coming to town!  Imaginocean! will be making a big splash here in New York at the Westbury Music Fair on the 11th of November 2012.  Show starts at 1:00 pm.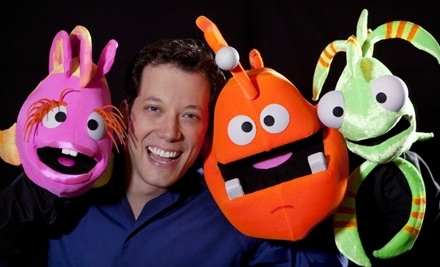 John Tartaglia is the creative force behind the mega production of Imaginocean. He is a Tony Award nominee for best actor in the Tony Award winning musical Avenue Q. Kids all over the world know him as Johnny — lead actor, creator, and producer of the 8 time  EMMY Awards nominated kids TV show "Johnny And The Sprites".  He played various acting roles on Broadway (Beauty and The Beast, Shrek)  and on TV series (Ugly Betty, Hollywood Squares, and a host of Disney TV shows). His experience as a puppeteer dates back to his 12 year stint with Sesame Street, starting at the age of 16 as one of the youngest puppeteers on the show.
Imaginocean is Tartaglia's latest and most innovative project to date.  With the use of puppets and blacklighting, a wonderful and adventurous fish storyline, and jam-packed with music ranging from R&B, big band, and swing, Imaginocean will be making waves and delighting children of all ages, as the first "glow-in-the-dark" musical.
This awesome show will be a smash and a make a big splash at the box office.  Don't let your kids miss this! Give them the adventure that can stretch their 'imagenoceans'.  Definitely a blast!  Get you tickets now!