NYCB Theatre at Westbury | Westbury, New York
Jim Gaffigan may no longer be Contagious, but he is Fully Dressed! The Grammy-nominated comedian, father of five and regular hot pocket eater is out on his hilarious new stand-up tour and he's swinging by NYCB Theatre at Westbury for not one, but TWO nights!
"I'm so thrilled to be eating my way across American again. … Oh wait, I'm doing shows too?" Gaffigan joked.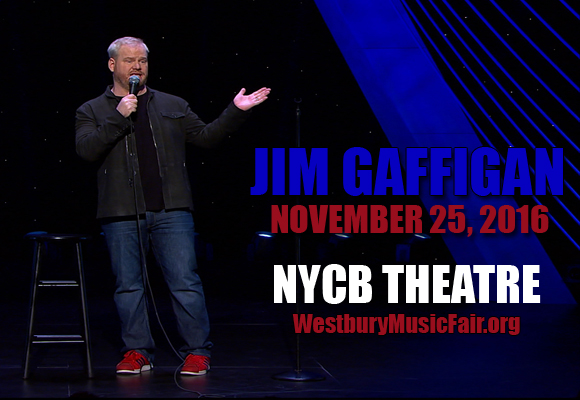 When a friend bet him to do stand-up, Jim Gaffigan took him first foray into the wonderful world of comedy. Upon moving to New York in 1990, aged 24, the Indiana native began making a name for himself as a comic and actor across the city on the comedy club circuit. He landed himself a spot on the Late Show with David Letterman a decade later, after years of hard graft, and the host was so impressed he hand-picked him to develop the sitcom Welcome to New York. Unfortunately, the show was cancelled, but Gaffigan went on to land several acting roles in various high profile television programs including That '70s Show, Sex and the City, Third Watch, Ed and Law & Order. Centering around laziness, food and American eating habits, Gaffigan's humor is a hit with audiences the world over, making the laugh with his inner monologue's squeaking falsetto.