NYCB Theatre at Westbury | Westbury, New York
An Evening with Jane Fonda. It is indeed difficult to contain one's excitement to find out that such iconic stature, a well recognized and highly respected artist such as Jane Fonda has taken time to spend an evening with fans and followers and share her storied career, along with anecdotes, conversation, video clips and an audience Q&A. One that can only happen in dreams, perhaps. Better believe it, this is for real. Jane Fonda, herself, will grace the live stage of the NYCB Theatre at Westbury with her awe-inspiring presence, on Saturday 7th December 2019. With Fonda's career spanning six decades, one could just imagine the multitude and magnitude of fans who would want to be part of this momentous event. Best thing to do is to book and buy tickets online. Yes, right here, right now, tickets are well within your reach by just clicking the 'buy tickets' button on this site. No time to waste, book your tickets now!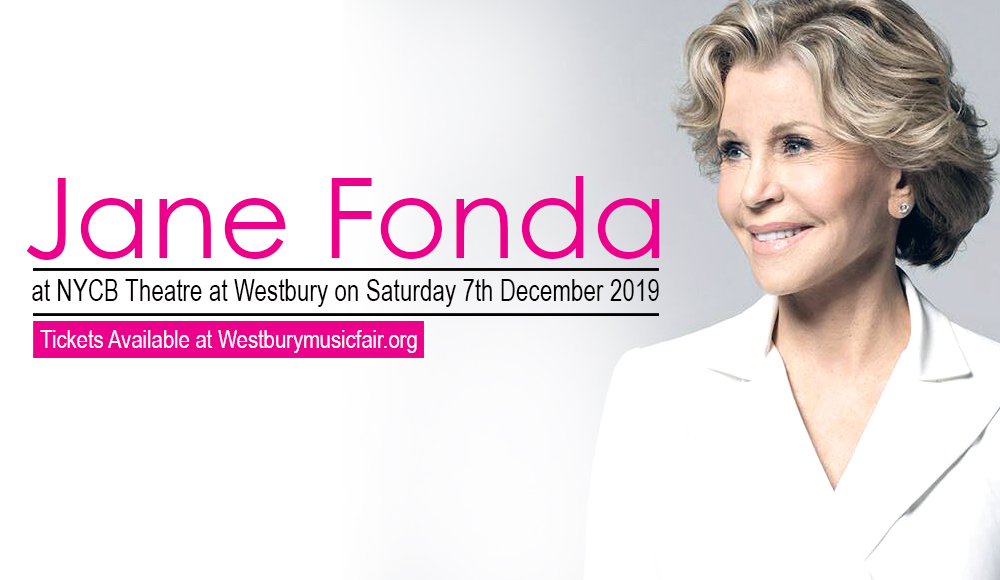 Jane Fonda's is an acclaimed and respected figure in the entertainment industry, a champion of various women's advocacies, an inspiration to humanity. This actress, writer-activist, fashion model, fitness guru entrepreneur, and author.
Jane Fonda's career as an actress is decorated with a slew of prestigious awards which include two Academy Awards and seven nominations, two British Academy Film Awards, four Golden Globe Awards, one Emmy and one Critics' Choice Television Award for numerous blockbuster and critically-acclaimed films. Her most memorable performances were from films such as Period of Adjustment (1962), Sunday in New York (1963), Cat Ballou (1965), Barefoot in the Park (1967), Barbarella (1968), They Shoot Horses, Don't They? (1969), Klute (1971) and Coming Home (1978). Her other nominations were for Julia (1977), The China Syndrome (1979), On Golden Pond (1981), The Morning After (1986), Fun with Dick and Jane (1977), California Suite (1978), The Electric Horseman (1979), 9 to 5 (1980), and many many more!
In the 1980s, Jane Fonda became the health and fitness aspiration and inspiration for women of all shapes and sizes as she released "Jane Fonda's Workout", which became the highest-selling VHS of all time. It would be the first of twenty-two such videos over the next thirteen years, which would collectively sell over seventeen million copies.
Behind these stellar achievements, Jane has a very colorful and interesting story to tell. This is not merely eavesdropping, hearsay, or even hearing it through reporters or reading about it on publications. It is Jane Fonda, herself — live and in the flesh –sharing clips from her storied career, along with anecdotes, conversation and an audience Q&A.
A live documentary unfolding right before your very eyes and told by the woman of the hour! How in the world can you miss out on this one?! Book your tickets now!