NYCB Theatre at Westbury | Westbury, New York
There's no stopping Jackie Mason! Yes, he's still at the top of his game, spreading laughter and cheer. If life is becoming some sort of a drag sometimes, take the best medicine –laughter. You can take large doses or go for unlimited servings. Check out Jackie Mason's one-night only show at the NYCB Theatre at Westbury on Saturday 18th October 2014. Be there and laugh-all-you-can!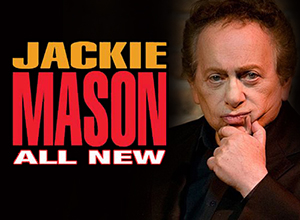 Popularly known for the moniker 'The Ultimate Jew', Jewish – American stand-up comedian, and film and TV actor Jackie Mason is a living legend. At age 83, he still tirelessly tours America and the UK doing stand-up comedy shows. With his career spanning a year shy from reaching the 60-year mark, Mason is indeed one of the pillars who shaped stand-up comedy and influenced generations of aspiring comedians. He is known for his trademark comedy style of poking fun at and delivering comedy situations and satires revolving around American culture and politics, trending topics on the web, and Jewish culture. Though he is American, Mason made a bigger impact in the UK. From among American entertainers, Mason has made the most number of Royal Command Performances. He has performed in iconic venues such as the London Palladium, Wembley Arena, and The Royal Albert Hall. In 2003, he made a record as the only comedian to have performed at the Royal Opera House.
In the 60s, he had a regular stint at The Ed Sullivan Show. His 1969 debut performance on Broadway, "A Teaspoon Every Four Hours", set and held a Broadway record of 97 previews. Almost 20 years after, he made a big Broadway comeback in 1986 with the triumphantly received and critically acclaimed one-man show called "The World According To Me". He also had a recurring guest role starting in 1992, on the hit tv series "The Simpons", and won an Emmy for voicing over the role of Rabbi Hyman Krustofski. In 2005, the comedians' poll "Comedian's Comedian" voted him in the top 50 best comedy acts. While Comedy Central Presents recognized his contribution to comedy by ranking him at #63 in the 100 Greatest Stand-Up Comedians Of All Time".