NYCB Theatre at Westbury | Westbury, New York
Here's a fun bonding moment you could share with the whole family.. Jack and The Beanstalk comes to NYCB Theatre at Westbury, on Tuesday 5th August 2014. An exciting adventure of gigantic proportions awaits…be there when it happens!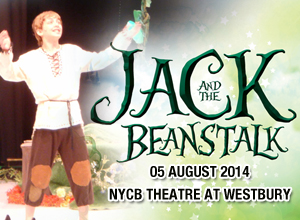 Fee – Fi – Fo – Fum! Do you smell the aroma of fun, laughter, and entertainment that the whole family will enjoy? One of the best-loved fairy tales will spring to life right before your very eyes. The theatrical production of Jack and The Beanstalk will surely be delightful experience for the young and young at heart.
The tale of Jack and The Beanstalk has been around in the early 1800's, printed and re-printed in books, told and re-told for generations. This amazing bed-time-story has become a family tradition that soared within a kids' imagination. The magic beans that grew into a sky-high beanstalk…the giant's booming voice and his earth-shaking footsteps that made you shudder in fear…the astounding goose that laid golden eggs…the hypnotic music from the harp that plays by itself — all these filled your mind with wonder and astonishment. On stage, all these will come alive with sights and sounds, and remarkable actors that will portray the trickster and witty Jack, his loving yet strong-willed mother, the kind giant's wife, the scary and intimidating giant, and a other characters that will add some awesome flavor to the whole theatre experience.
If you loved reading and telling this bedtime story from the books, then you'll love this theatrical production even more! An epic adventure awaits, climb, scale new heights, and let your emotions soar with delight! Get your tickets now!